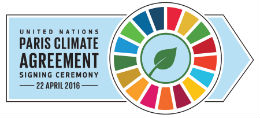 12.02.20. 
The Paris Agreement. PM Scott Morrison's favourite chestnut; he appears determined to politically live or die by his Paris Agreement and the latter might be so. Thank goodness for News Corp's Graham Lloyd who does not buy climate madness. His revealing article will no doubt be scoffed at by Morrison who seems to have inherited the Turnbull political Tin-Ear with good dollop of arrogance as well. Voters need to take note of such events and exact punishment at the ballot box and stop using the excuse that the alternative is worse cop-out!
Only three countries, representing 0.1 per cent of global greenhouse gas emissions, have met a Paris Agreement deadline to lodge new plans to boost action on climate change. Of the 194 governments that signed the Paris Agreement in 2015, only Marshall Islands, Suriname and Norway have provided updated climate plans by the ­February 9 deadline.
Source: Graham Lloyd, Environment Editor, News Corp
All talk, no action: only three nations meet climate deadline
A deadline was written into the Paris Agreement for countries to update their climate plans "at least nine to 12 months in advance of the relevant session", which is due to be held this year in Glasgow in November.
The poor response is in stark contrast to public comments about the urgency of taking action on climate change.
Officials involved in drawing up the Paris Agreement said they were disappointed the deadline had been missed. But, despite being spelled out in the "adoption of the Paris Agreement" document, the deadline is now being referred to as "theoretical" because it is not legally binding.
Former UN Climate Change Secretariat head Christiana ­Figueres said she expected new pledges to be made throughout the year.
The federal government has said it remains committed to the existing 2030 target of cutting emissions between 26 and 28 per cent of 2005 levels.
Energy Minister Angus Taylor has said Australia was assessing its long-term strategy for 2050 but had not yet made a decision.
UN Secretary-General Antonio Guterres said only 70 countries had committed to carbon neutrality by 2050, including the European Union.
"That number represents less than one-fourth of global emissions," Mr Guterres said.
"We must make this commitment universal."
However, Mr Guterres said governments should remain focused on more immediate action to cut global emissions by 45 per cent below 2010 levels by 2030.
In its climate update, Norway has pledged to reduce emissions by at least 50 per cent, and towards 55 per cent by 2030 compared with 1990 levels.
Suriname, with 0.02 per cent of global emissions, has set a renewable energy target of 35 per cent by 2030. It is seeking $US696m ($1.03bn) for climate measures.
The Marshall Islands, which is responsible for less than 0.00001 per cent of global emissions, said it had peaked emissions in 2009 with a target to halve GHG emissions between 2010 and 2030, with a view to achieving net-zero GHG emissions by 2050, or earlier if possible.
Australia has been criticised by various lobby groups as an obstacle to progress at international climate talks. But Mr Taylor said Australia was on target to meet its obligations under both the Kyoto second round and the 2030 Paris Agreement.
The most recent estimates released by the federal Department of the Environment are that Australia will overachieve on both its 2020 and 2030 targets.
Emissions in 2030 are projected to be 511 Mt CO2-e.
To achieve Australia's 2030 target of 26 to 28 per cent below 2005 levels, emissions reductions of 395 to 462 Mt CO2-e between 2021 and 2030 are required.
When overachievement of 411 Mt CO2-e from the Kyoto agreement is included, Australia will overachieve by 16 Mt CO2-e — or a 26 per cent reduction.
Another 51 Mt CO2-e of cumulative emissions reduction will be required between 2021 and 2030 to meet the 28 per cent reduction target.
The federal opposition has criticised the Morrison government for including carry-over credits from the Kyoto process in its 2020 and 2030 emissions ­calculations.
Deputy Labor leader Richard Marles said on ABC television on Sunday that Australia would get a 0.3 per cent reduction on emissions on 2000 levels by 2020.
He also said Australia was not on target to meet the 26 per cent Paris Agreement target.