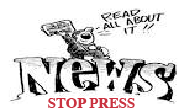 02.12.19.
7:30am. Joe Kelly, News Corp
One Nation leader Pauline Hanson says she has given Home Affairs Minister Peter Dutton a "guarantee" she will support the government's Medivac repeal bill despite voting down the Coalition's industrial relations legislation last week.
"I have given him my guarantee that I will back it. He knows my word is my bond,"Senator Hanson said.
However, Senator Hanson said that she would not flag in advance how she would vote on other key measures before the parliament.
"I don't intend to tell them how I'm going to vote on anything in future," she said.
The government needs to win over the support of Tasmanian Senator Jacqui Lambie to win support for its Medivac repeal. Returning to Canberra for the final sitting week of the year, Senator Lambie said she was looking forward to "really getting our teeth into it."
The Australian has revealed this morning that more than 20 refugees approved for relocation in the US had been transferred to Australia under the medivac regime, fuelling concerns the laws were undermining third country resettlement efforts