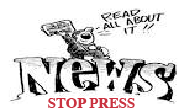 01.12.19.
Pauline Hanson poses yet another worry for the Liberal Party. Australian politics is doing what it has always done—get rid of any rising third party by foul means or fair. As expected, Morrison has circled the wagons all the while feigning the high moral ground about keeping promises. Charity be damned when it comes to self-interest. Morrison-the-'pure' needs to be reminded about his dirty work toward One Nation in the early days, as does Tony Abbott who in a court statement when asked why he did certain things to One Nation said—"I wanted to please my boss!" (then John Howard)
How about MSM grilling Morrison and Wyatt on their secret, before the last election, plot to force the "Voice" issue down the throats of all Australians—thus killing democracy? And what about the Paris Agreement he continually avoids, and the questions about the invitation of his spiritual mentor to the White House State Dinner that was vetoed by the US? He does not comment on gossip, he says! "Was it true" was the question still unanswered!
Senator Matt Canavan has drunk the Kool-Aid and become lack-lustre, just another political hack wanting to keep his snout in the trough. In this article below of several errors he employs all the buzzwords: backflipping, negotiated in good faith, had reassured, reneging on the deal, treated the Australian people like mugs and misleading the government. Senator Hanson is now a powerful thorn in the government's side and should rebut this concerted attack and many will be hoping that it leaves egg on the faces of all who rush with ignorance to besmirch her!
Source: Alice Workman, Struth Editor, The Australian
Pauline Hanson 'treated Australian public like mugs' by backflipping on union busting bill
Resources Minister Matt Canavan has accused Pauline Hanson of misleading the government after backflipping on its union-busting bill.
Comparing One Nation to the famous Forrest Gump analogy, Canavan told Sky News from Parliament House this morning: "It's like a box of chocolates, and you just don't know what you're going to get".
Senator Canavan said the government had negotiated in good faith with One Nation and included every amendment the minor party suggested.
He said the party had reassured the government that it would vote for the Ensuring Integrity legislation.
By reneging on the deal, Senator Canavan said Ms Hanson and her fellow crossbencher Malcolm Roberts had treated the Australian people like mugs.
"Obviously One Nation are using the Westpac situation as a crutch to try and somewhat explain an amazing backflip," Senator Canavan said.
"It think it seems to be a reasoning after the fact, though. I can't put myself in the mind but it seems to be an excuse not a reason."
Yesterday, The Australian revealed that a central Queensland CFMEU official condemned for his behaviour in a major industrial dispute had incited Hanson to block the Ensuring Integrity legislation.
Senator Hanson held meetings with Queensland CFMEU construction division organiser Chris Brodsky, who led the union's fierce dispute with miner Glencore at Oaky North in the Bowen Basin, which ended in February last year after 230 days.
Then employment minister Michaelia Cash described Mr Brodsky during the dispute as a central figure in "some of the most appalling union behaviour Aust­rali­ans have ever seen".
Mr Brodsky introduced Senator Hanson to officials at a total of 10 unions in the weeks leading up to Thursday's vote. She was urged against supporting the Ensuring Integrity Bill that makes it easier to deregister law-breaking unions and their officials.
Senator Hanson's unexpected vote against the bill on Thursday came despite text-message ­assur­ances to senior ministers that she would support it.
She had also given multiple verbal assurances, even on the day the bill was brought on, that she would vote with the government.