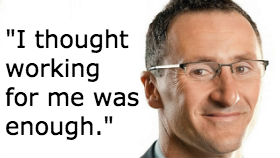 Greens Di Natale: is not holier than thou
Ever spruiking from the podium of virtue, Greens leader Di Natale signals his snout is indeed oblivious to the fairness he purports to champion. The article says he pays his foreign au pairs $150 a week for 25 hours' work—$6 per hour. The national minimum wage is currently $17.70 per hour or $672.70 per 38 hour week (before tax). Casual employees covered by the national minimum wage also get at least a 25 per cent casual loading. Perhaps the au pairs are greenies and are happy to work for less—also illegal!
Greens leader Richard Di Natale used taxpayer funds to fly his "manny" to Canberra with his wife and children as part of a $1500 trip the au pair joined while on a ­cultural exchange program in Australia. The Victorian senator, under fire for paying foreign au pairs $150 a week for 25 hours' work, along with food and board, claims he broke no rules using the entitlement to pay for his British nanny Benjamin Whitbred to travel with his wife and children from Melbourne for a four-day trip to Canberra in May 2015.
Source: News Corp
Richard Di Natale's 'manny' takes flights on the public purse
A spokeswoman from Senator Di Natale's office said it was within the rules for both his wife and au pair to travel using the taxpayer-funded family allowance as his wife was working during the visit.
"The carer was a designated person with significant caring ­duties as per the rules of travel, who supported Richard to care for his children while both parents worked," the spokeswoman said.
According to Department of Finance records, taxpayers footed the bill for three return flights from Melbourne to Canberra at a total cost of about $1400.
A $103.60 Comcar fare was also claimed under the family travel entitlement as part of the trip.
According to Department of Finance rules, MPs can designate someone other than their spouse or dependent child to access the entitlement if the person has "significant caring responsibilities" for a person "substantially dependent on the senator or member" or "for the senator or member's spouse/de facto partner, nominee or ­dependent child".
The employment "invitation" sent to the au pair, which outlined the terms of his engagement, said he would provide "limited help" for the leader's two children while on an exchange program to "experience family life in Australia".
Senator Di Natale has dismissed criticism of his au pair ­arrangements, saying the nanny was paid above the minimum wage once living arrangements and PAYG tax of $37 a week were taken into consideration.
The senator, who has overseen a slump in the party's primary vote since he took over the leadership in May 2015, has railed against the use of taxpayer-funded entitlements by MPs, and has suggested it is leading to voter disaffection with politicians.
On former Speaker Bronwyn Bishop's use of entitlements to fund a helicopter charter to Geelong, Senator Di Natale said the public was angry at the "level of abuse that exists around the issue of parliamentary entitlements".
"People have never held politicians in lower esteem than they do at the current time, and it is in part because some people in this place seek to use their entitlements, those that allow us to do our job, in a way that furthers their own personal self-interest," he said.