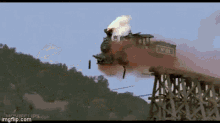 05.05.21.  
The rails of stability were dislodged by a very foolish Scott Morrison when from the Parliamentary floor he  cowardly assailed and insulted then CEO of Australia Post Christine Holgate. That momentary display of sickening bravado may turn out to be his worst career blunder yet. The horse has now bolted and it's too late to consult his wife on the matter because two, far more accomplished women, are about to nail Morrison's pious bum to the barn door as a lesson for all women to view how the PM's level of respect for women works in practice. Unless SloMo can fish another 'miracle' from his bag of tricks the entire issue will soon be in court where every secret detail will be hung out like dirty washing draped on the back fence—and what a feast that promises to be for a merciless media. Get your tickets for this 'train wreck' now!
Legal letters Christine Holgate sent to Australia Post and the government two weeks ago fully lists what she expects to achieve in mediation—potentially avoiding "costly litigation"—despite the postal service's chairman Lucio Di Bartolomeo saying he has "no idea" what the sessions plan to achieve
.
Source: Jared Lynch and Richard Ferguson, News Corp
Legal showdown looms for Australia Post over Christine Holgate Australia Post ousting
The Australian can reveal Ms Holgate, through her high profile lawyer, Rebekah Giles – who is also acting for former Attorney-General Christian Porter in his defamation case against the ABC – laid the groundwork for mediation sessions in the legal letters.
This is despite Mr Di Bartolomeo telling a Senate inquiry in Ms Holgate's ousting that he has "no idea" what they are meant to mediating over. At the same time he has branded Ms Giles's tactics as "very cute".
But in Ms Holgate's legal letter, which The Australian has obtained, Ms Giles fully lists what she expects the mediation sessions to cover and invites input from Australia Post and the government.
"It is envisaged that the mediation will cover all issues concerning our client," the letter states.
"The matters to be traversed at the mediation would involve, inter alia, the treatment of our client in her employment as the chief executive officer of Australia Post, the circumstances of her employment coming to an end, defamatory statements made of and concerning our client, breach of duty of care and the tortious interference with our client's contract of employment with Australia Post.
"Our client has instructed us to make this proposal for a mediation so that this matter can be resolved in the best interests of all parties thereby avoiding unnecessary, time consuming and costly litigation."
The letter also stated that the agenda of the session could be refined further once a mediation date has been scheduled.
"We propose that the mediation take place as soon as possible. We also propose the exchange of position papers. The timetabling in relation to position papers can be fixed once the parties agree on a mediation date."
Ms Giles sent Australia Post, and Communications Minister Paul Fletcher and Finance Minister Simon Birmingham – who both oversee the postal service – a legal letter on April 21, requesting they engage in mediation over Ms Holgate's ousting last November.
Ms Giles set a two week window to complete the mediation process, which closes on Wednesday. But Australia Post will not be able to meet the deadline and the government has requested more time, leading Ms Holgate to begin "considering her legal options" and "costly litigation".
In a statement, Ms Giles said the two-week window was requested to complete mediation to "minimise the ongoing harm that has been caused to Ms Holgate" following her departure from Australia Post over the Cartier watch affair.
Ms Giles said speedy mediation would also help end the "distraction to Australia Post which ultimately must focus on its important service to the public and its obligations to its employees and operators".
"It is very disappointing to Ms Holgate that it appears neither the Government nor Australia Post have been able to prioritise an amicable resolution of this matter, particularly as they are very aware of the ongoing damage this matter causes my client and in light of the fact that it took them only hours to unlawfully stand her down," Ms Giles said.
"Given there appears to be an absence of agreement to mediate this matter expeditiously, Ms Holgate will now have no option but to consider her legal options after the Senate Communications and Environment Committee's report into these matters is released on May 17."
But Mr Di Bartolomeo said Ms Giles two week timeline was "unreasonable"
"I know that they wanted us to start meditating last week. We didn't, because none of those details are on the table," Mr Di Bartolomeo told the Senate inquiry on Monday.
"We've got no idea what we're actually going to be mediating on … we have said, look, this is unreasonable. We will deal with mediation, by all means, but they've been very cute."
Mr Di Bartolomeo claims Ms Holgate agreed to stand aside during phone conversations after Prime Minister Scott Morrison demanded in parliament she stand aside or "go" following revelations she gifted four Cartier watches worth $20,000 to the senior Australia Post executives who secured a banking deal worth $66m a year in 2018.
Ms Holgate maintains she never agreed to stand aside, saying the action was unlawful and Mr Di Bartolomeo "bullied" her out of her job.