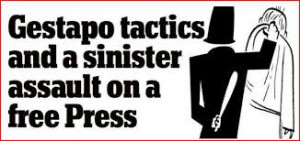 Australian press Council: Julian Disney goes
Those who prize free speech despite the manacles of Bill 18C will shed no tears as Julian Disney, chair of the Australian Press Council exits stage left in March.
This is the mob that under the Gillard government wanted to introduce draconian regulation to stop anything being published that more or less disagreed with anything the government said or did—Pravda-like control.
The following PC edict from Disney's word troopers was the sort of codswallop intended to gloss over the then spate of "illegal immigrants"gatecrashing or borders, 50,000 of them, by instructing journalists to call them "Asylum seekers." March 12 2012.
"…Depending on the specific context, therefore, terms such as "illegal immigrants" or "illegals" may constitute a breach of the Council's Standards of Practice on these grounds. The risk of breach can usually be avoided by using a term such as "asylum seekers" although in some cases, of course, the context may require reference to their unlawful or unauthorised entry or their status as unlawful non-citizens pending determination of their claims (if they do not have bridging visas)."
Disney's parting dream is to have his underworked justice seekers take unilateral action where ever they perceive it, regardless of complaint being lodged, he said, the council should be able to investigate breaches of its standards without receiving a complaint from the public first.
Outgoing Australian Press Council chair Julian Disney levels criticism at media practices in the digital age

The outgoing chair of the Australian Press Council has aired a range of criticisms about newsgathering techniques and publishing in the digital age, highlighting the practice of publishing information and images obtained on social media.

Departing from the role of chair in March, Professor Julian Disney also suggested that in the future, the council could be replaced by a new body making adjudications across a broader range of media types.

Professor Disney said the practice of re-publishing material posted on social media was becoming a significant problem for Australian media outlets and was often a breach of privacy.

He said some social media providers contributed to these problems with privacy settings that were complex or ineffective, but that the media had a responsibility to behave ethically.

"Newspapers and other re-publishers also have responsibility not to make intrusive use of that material, especially if it relates to a deceased person, or to vulnerable people like children or grieving relatives," he said.

'Misrepresentations, serious unfairness' more common

Professor Disney said the rise of digital publishing posed a range of new issues for industry, including increased pressure on journalists to invade people's privacy, as well as the sacrifice of accuracy and quality in the pursuit of speedy publication.

"While digital material can be readily corrected, many readers are unlikely to revisit an article to see whether any corrections have been made. Also, they may have read the article when re-published by another outlet that does not notice or post the correction," he said.

He said experienced insiders had told him standards of accuracy and fairness in the media were generally lower than a couple of decades ago.

"One said, with both sadness and anger, that at the newspaper in which he has a senior position, the editorial approach has changed from 'go and find out what the story is' to being 'go and find a source who will say this is the story'," he said.

Digital competition is further blurring the line between advertising and the kind of material which falls within the council's ambit

Australian Press Council chair Julian Disney

"Whether or not these assessments are entirely correct, misrepresentations, serious unfairness, personal abuse and failures to publish adequate corrections or responses seem to have become more common in some quarters in recent years."

His comments were tempered by the observation that digital media did have the potential to diversify the media landscape, bringing new publishers and ideas into the fold.

In outlining future directions for the APC, Professor Disney said the council would also need to keep "at least a watching brief" on the trend towards convergence between print, digital and broadcast media.

He said its proposals for a new Independent Standards Organisation to take over the council's role and those of bodies such as Australian Communications and Media Authority were broadly endorsed by the official Convergence Review in 2012 and that he thought such a move could occur in the future.

"Consideration will also need to be given to further interaction between the council and the Advertising Standards Board, especially as digital competition is further blurring the line between advertising and the kind of material which falls within the council's ambit," he said.

Council should investigate breaches without receiving complaints, Disney says

Professor Disney repeatedly stated that the APC should retain its "ombudsman-like" function as opposed to taking on the role of a tribunal or a prosecutor.

But he said the council should be able to investigate breaches of its standards without receiving a complaint from the public first.

He said there were often occasions where those injured by poor reporting were unable or unwilling to make a complaint, and in such cases the council should step in and initiate its own adjudications about journalism standards.

"Unless the council is willing to move cautiously in this direction, its public explanation and application of its standards of practice will remain heavily dependent on the happenstance of appropriate complaints being made on these key issues," he said.

Professor Disney will be succeeded by Professor David Weisbrot, who is currently a part-time commissioner of the NSW Law Reform Commission and a former president of the Australian Law Reform Commission.
Source: ABC