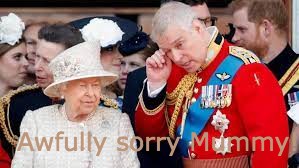 14.01.22.  
Put yourself Mr duke of york's undies just for one moment. Imagine what the son of Queen Elizabeth is feeling today being stripped of almost every royal title—and respect? From a prince to a ponce overnight. No more impressive moments in the regimental mess—among the many suckholes eager to be 'snapped' with the 'Colonel-in-Chief'. What now for the eternally disgraced? What now in the courts with a 'Me-Too' vulture perched upon his shoulders. Whom now shall fork out for damages should that be the court's decision? No more bowing and greetings at the doors of fine dining emporiums. No more respect for a Mr Nobody. No more reason to continue? How very sad! Such awful shame for the good Queen. His father has been spared—a mercy!
The Queen has stripped her second son, Prince Andrew, of his military affiliations and Royal patronages in a humiliating move as he prepares to face sexual assault allegations in a civil case brought by Perth-based Virginia Giuffre. Andrew has been told not to use the title His Royal Highness after senior royals, believed to be Prince Charles and Prince William, argued for him to lose it.
Source: Jacquelin Magnay, NCA
Prince Andrew gives up military titles, patronages
A two-line statement from Buckingham Palace read: "With The Queen's approval and agreement, The Duke of York's military affiliations and Royal patronages have been returned to The Queen. The Duke of York will continue not to undertake any public duties and is defending this case as a private citizen."
The distancing of the Queen and the rest of the Royal Family from Andrew's legal woes comes as the country prepares for Elizabeth's platinum jubilee, which threatens to be overwhelmed by embarrassing elements from the Giuffre case.
Ms Giuffre has accused Andrew, now 61, of knowing she was a sex-trafficking victim of his friend, Jeffrey Epstein, and that he had sex with her on three occasions in 2001 when she was aged 17.
Andrew has strenuously denied the charges and royal sources said he would continue to fight the case in court, despite some analysts urging him to settle in what could be a multimillion dollar payment.
Earlier this week, the United States district judge Lewis Kaplan ruled the case would proceed, rejecting Andrew's arguments to dismiss because of a plea deal made in 2009 between Ms Giuffre and Epstein.
Ms Giuffre's lawyer David Boies said: "A purely financial settlement is not anything that I think she's [Giuffre] interested in."
Court documents lodged by Ms Giuffre allege Andrew's sexual abuse of a child " … when he was approximately 40 years old goes beyond all possible bounds of decency and is intolerable in a civilised community".
The Queen's decision came on the same day that she received an open letter from 150 military veterans who said they were upset and angry that Andrew remained a member of the armed forces and continued to hold military titles, positions and ranks, including that of Vice Admiral of the Royal Navy.
The letter said: "Were this any other senior military officer, it is inconceivable that he would still be in post. Officers of the British armed forces must adhere to the very highest standards of probity, honesty and honourable conduct. These are standards which Prince Andrew has fallen well short of. It is hard not to see, when senior officers are reportedly describing him as 'toxic', that he has brought the services he is associated with into disrepute."
Andrew stepped back from public duties in late 2019 following a car crash BBC interview, in which he strenuously denied knowing Ms Giuffre and claimed that a photograph of the two of them may have been doctored. He insisted that on the day in question, he could not have met Ms Giuffre because he was at a birthday party at Pizza Express Woking.
But now, Andrew's fall from grace has seen him lose his cherished military roles including Colonel of the Grenadier Guards. Other prominent honorary military titles stripped from him are honorary air commodore of RAF Lossiemouth, colonel-in-chief of the Royal Irish Regiment, colonel-in-chief of the Small Arms School Corps, commodore-in-chief of the Fleet Air Arm, royal Colonel of the Royal Highland Fusiliers, deputy colonel-in-chief of the Royal Lancers (Queen Elizabeth's own) and royal Colonel of the Royal Regiment of Scotland.
While he would keep his HRH honorific, he would not use it, royal sources said.