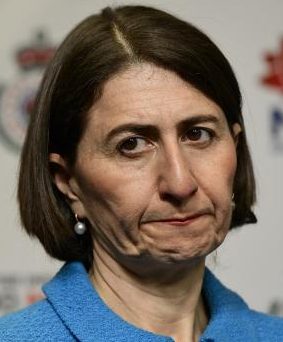 22.10.21.  
The Gladys Berejikilan/ICAC saga rolls on like a glacier grinding a path across the land. A dispassionate look at notes is followed by an emotionless deliberate phrasing of a question and you get the impression that there is nothing wasted, the question always seems to have a point and is cross referenced. It doesn't pay to be glib and light-hearted with this type of questioning, snappy one-liners are slowly rolled over and questions go slowly relentlessly on.
Berejiklian's situation is rife with varying predictions from commentators at large. They all can't be right, and maybe none are, but one report at least is confident she is unlikely to be vindicated.
The shattering force of Mike Baird's evidence to a NSW ­corruption inquiry on Wednesday effectively ends any pretence that Gladys Berejiklian might emerge unscathed and vindicated at the conclusion of the public hearings. It should also rightfully end the ludicrous attacks recently waged against the Independent Commission Against Corruption for daring to pursue this investigation, which mere days into its two-week sitting has already unearthed troubling findings.
Source: Yoni Bashan, NCA
No more ICAC pretence: we know it, Gladys Berejiklian knows it
What seems plain and somewhat tragic is the shocking miscalculation (a generous reading) made by Berejiklian not to declare her close, personal relationship with former Liberal MP Daryl Maguire, a man who seemed to luxuriate in a fiesta of corruption as far back as 2012.
Over the past 12 months, Berejiklian has delivered routine insistence that there was never any need to declare the relationship because, in her words, it wasn't of "sufficient status".
It's a line of reasoning that no longer makes sense and, frankly, insults the intelligence of anyone familiar with the evidence that has emerged this week.
We already know a slew of seasoned public servants disagree with her view, as does her very close friend Baird, who conceded on Wednesday that he feels largely the same way – albeit these admissions were made under the oxyacetylene heat of an ICAC oath.
Berejiklian has practically fallen over herself in the past to declare trivial matters of perceived conflict. Between 2013 and 2018, she recused herself from cabinet meetings, wrote to department secretaries, flagged potential board appointments, Liberal donors, a couple of stray cousins who happened to work as public servants. This was all done out of an absolute abundance of caution.
The idea the former premier – one of the shrewdest politicians in the land – believed she could chair a committee meeting that deliberated on a multi­million-dollar funding grant, for an MP with whom she was in a secret relationship, without a thought entering her head that there might be something problematic about this nakedly conflicted arrangement, is preposterous.
We know it. She knows it.
Reams of paperwork secured by ICAC attest that this same funding grant would have been dead in the water without her sponsorship, and numerous public servants have lined up this week to express their utter bemusement that it was even given a look-in, given its grossly deficient business case.
Emails have been produced suggesting Berejiklian or members of her office were pivotal to accelerating its approval, allowing it to circumvent the government's usual safeguards and probity standards over potentially more-deserving projects.
Baird himself could barely bring himself to defend it. He said of the project: "The advice was clear that this was insufficient and more needed to be done."
And of the relationship?
"Look, I think, certainly I think it should have been disclosed," he said, effectively sealing Berejiklian's fate, although there are seven more hearing days to come.