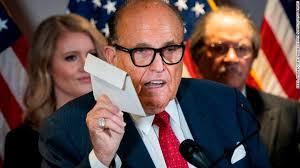 03.05.21.  
Rudy Giuliani and son were Trump's chief dirt diggers on the Biden family business activities. Now that Biden's on the throne, or at least his minders are, the favour is being returned in spades. Around 6am last Wednesday, the FBI swooped simultaneously on Giuliani's Madison Avenue apartment and Manhattan office, as well as the Washington home of one of his closest allies over business dealings in the Ukraine. Meanwhile, reported six hours ago in the EP Times was a very rare
mea culpa
from:
The New York Times, The Washington Post, and NBC News have retracted earlier reporting that incorrectly stated former New York Mayor Rudy Giuliani was directly warned by the FBI that he was targeted by a Russian intelligence influence operation. The stories came after federal investigators executed a search warrant at the home and office of the former New York mayor.The searches were allegedly linked to Giuliani's dealings in Ukraine, while Giuliani said he believes the search warrant was issued because he allegedly failed to file with the Department of Justice (DOJ) for representing a Ukrainian national or office. He has since denied any wrongdoing. The Post was the first to report the incorrect information. It also incorrectly stated that One America News had also received a similar warning from the FBI.
End EP Times text.
**************************************
Source: Laura Pullman, The Sunday Times
Dad was raided for political reasons, claims Giuliani Jr — and I blame the President
Trump stuck up for his staunchest supporter. "It's, like, so unfair and such a double standard," said the former president, praising his old friend as a "great patriot".
Giuliani's son Andrew was more impassioned. Hair slicked back and teeth flashing, he appeared outside his father's home on the Upper East Side to rail against the dawn raids.
"This is disgusting. This is absolutely absurd. And it's the continued politicisation of the justice department," he told the gathered reporters. "And it has to stop. If this can happen to the former president's lawyer, this can happen to any American."
Giuliani Jr, 35, who is mulling a run for New York governor despite having never held an elected political position, was still fired up the following day.
"I think this is political retribution," he fumed over the phone. "They seized his two cell phones, an iPad, a laptop, yet the one electronic device they did not seize was the one thing my father had in his apartment that could incriminate somebody. It doesn't incriminate him; it incriminates Hunter Biden."
In Trumpworld, Giuliani Sr, 76, led the dirt-digging against Joe Biden and his son Hunter, who had business dealings in Ukraine and is now facing a criminal tax investigation. For more than a year, investigators have been looking at Giuliani's own links with Ukrainian oligarchs and officials. No charges have been brought.
"I think the President of the United States is probably involved (in the raids) and I think he's extremely worried about what's on that laptop and he should be," continued Giuliani Jr. Biden insisted he had no part in the operation.
The timing is not ideal for Giuliani Jr, who has spent recent weeks lining up his ducks for a gubernatorial campaign in the Empire State. While others in Trump's inner circle have abandoned New York and Washington to move to Republican-friendly Florida, Giuliani Jr is living in Manhattan with his wife, Zivile Rezgyte, a Lithuanian-born property executive.
"New York is like the fighter that's taken a knockdown and we need to get it back in its corner, we need to give it some good advice, get some good leadership, get it back in the ring and fighting stronger than ever," he said.
He spoke while driving across the state to meet potential campaign staff and rally support. Thursday's destination was Buffalo, 650km from Manhattan.
In 2009 his father gave up his own ambitions to become New York governor after a disastrous and expensive presidential run two years earlier. If Giuliani Jr does chuck his hat in the ring, his thin CV seems bound to come under fire.
He aspired to be a professional golfer but was kicked off the team at Duke University after throwing tantrums, including breaking clubs and hurling an apple at a team-mate's face. He tried — and failed — to sue the university and worked as a sales intern at a boutique investment bank. In 2016, he volunteered on Trump's campaign before serving in the administration as a "special assistant".
During that gig, he'd tell those who objected to his plum (but vague) White House role: "'I'm very, very honoured to make five figures a year representing the American people in the United States of America while Hunter Biden makes six figures a day representing the Chinese people."
He enjoys a close bond with Trump (they often play golf together) and has lately sought his campaign advice. "He's been somebody that I've looked up to for a long time, I consider him like an uncle, so I certainly rely on his advice, both personally and professionally," he said.
His relationship with his thrice-divorced father has been more tumultuous than that with Trump.
Twenty years ago, Giuliani Sr, then mayor of New York, gave a press conference in which he declared that his marriage to Donna Hanover, Andrew's mother, was over and he'd be spending more time with Judith Nathan, a woman he'd met in a cigar bar.
This media circus was how Hanover discovered that her husband had called it quits.
Giuliani married Nathan in 2003 but their divorce was finalised in 2019 and now he's in a relationship with Maria Ryan, his former mistress.
Giuliani Jr was angry with his father for years but nowadays has only effusive praise for him, saying: "Rudy Giuliani is the greatest mayor in the history of New York, he's the greatest US attorney in the history of the United States of America, and he's an honourable man."
That is a loyal but bold statement in New York, where Giuliani Sr has become radioactive in the city he once reigned over.
Video source: Sky News