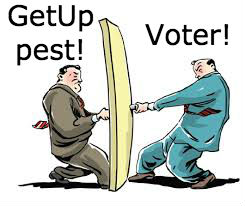 GetUp's march of the zombies in Warringah
Independent candidate Zali Steggall is on track to replace former prime minister Tony Abbott as the federal member for Warringah, according to a ReachTEL poll commissioned by GetUp.
For starters, would the scoundrels at GetUp commission a poll that would give anything but their desired result? Perhaps the ex Wentworth waffler could help GetUp with polling results? This article in the SMH, however, fails to mention how those polling questions were posed. The influence of GetUp with the help of leftist media is becoming folklore, a gospel by which voters must abide. Surely voters are smart enough to lodge their vote with whom they choose—not what GetUp has decided for them—aren't they? When the GetUp pests come a calling, tell 'em to bugger off and slam the door in their faces.
The activist group, which is campaigning to oust Mr Abbott from his traditionally Liberal seat on Sydney's northern beaches, commissioned a poll of 622 residents that showed the four-time Winter Olympian leading 54 to 46 on a two-party preferred basis. The athlete-turned-barrister has positioned herself as an advocate of the "sensible centre" – economically responsible, while progressive on social issues and climate change.
Source: Fairfax Media
GetUp poll points to Abbott electoral defeat
Although the reliability of pre-election polls has been questioned, GetUp has seized on the results in support of its claim that Mr Abbott is "out of touch" with the majority of his electorate. The group is preparing a repeat of efforts backing Kerryn Phelps at last year's Wentworth byelection.
Campaign director Miriam Lyons said the polling backed what activists were hearing from voters in Warringah, especially on climate change – identified as the number-one reason for an intention to vote against Mr Abbott.
"This is just one poll, and we're still a long way off the election, but I can't imagine these numbers help Tony Abbott sleep at night," Ms Lyons said.
"He cannot escape the reality that most people in his electorate want to show him the door."
In the poll, 60 per cent of voters rated Mr Abbott's performance as a local member as "poor", and the same number said they would be more likely to vote for a candidate "with a plan to tackle climate change by replacing coal with clean energy".
For those who had previously voted for Mr Abbott but now planned to change their vote, the figure was 78 per cent.
Participants were asked about their voting intentions if the federal election, due in May, was held today and were instructed to chose between Ms Steggall, fellow independent Susan Moylan-Coombs, the Liberal Party, the ALP, the Greens or "other".
"Tony Abbott is out of touch," Ms Lyons said. "[He] has had 24 years to show he's willing to listen to his community on issues like climate change and marriage equality, and for 24 years he's chosen to go off and fight right-wing culture wars instead."
GetUp has signed up hundreds of volunteers to doorknock across Warringah, man phone banks and hand out how-to-vote cards in support of Ms Steggall.
Ms Lyons said Warringah voters cared deeply about climate change and expected the government to act.
"They know that Tony Abbott, more than anyone else in Parliament, has sabotaged renewable energy and blocked action on climate change and they're ready to hold him accountable."
But the campaign director acknowledged that unseating Mr Abbott, who holds his seat on a 12 per cent margin, would be "a monumental task".
"He has the backing of a party machine and the coal lobby, and donors will pour millions of dollars into his campaign," Ms Lyons said. "It's going to be a long, tough fight."