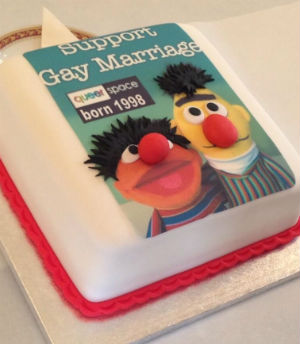 The Christian owners of a bakery have won an appeal at the UK's highest court over a finding that they discriminated against a customer by refusing to make a cake decorated with the words "Support Gay Marriage".
Five Supreme Court justices allowed a challenge by the McArthur family in a unanimous ruling in London on Wednesday in what has become widely known as the "gay cake case".
The legal action was originally brought against family-run Ashers bakery in Belfast by gay rights activist Gareth Lee, who won his case initially in the county court and then at the Northern Ireland Court of Appeal.
Announcing the court's decision, its president, Lady Hale, said: "This conclusion is not in any way to diminish the need to protect gay people and people who support gay marriage from discrimination.
"It is deeply humiliating, and an affront to human dignity, to deny someone a service because of that person's race, gender, disability, sexual orientation, religion or belief.
"But that is not what happened in this case."
She went on: "As to Mr Lee's claim based on sexual discrimination, the bakers did not refuse to fulfil his order because of his sexual orientation.
"They would have refused to make such a cake for any customer, irrespective of their sexual orientation."
This case has been covered by MM from the beginning. It raises profound deep questions of the right to hold an opinion
Controversy first flared when a homosexual and a member of the LGBT advocacy group QueerSpace, ordered a cake in 2014 featuring Sesame Street puppets Bert and Ernie for a private function marking International Day Against Homophobia.
His order was accepted and he paid in full but, two days later, the company called to say it could not proceed due to the message requested.
Asher's had been singled out. The couple are practicing Christians. The poofs hoped for an easy victory and they god it.
Now they have lost it.
And the queer who brought the case has the bloody hide to say now – I never intended to launch a campaign, all I wanted to do was buy a cake.
Oh yes, his life has been ruined an all that.
Should have thought about that when he went out of his way to pick on Ashers.
Now then, what implications has this for the persecution of Bernard Gaynor here in Australia?
Can't wait to see how the Sydney Morning Homosexual reports this.
Or the queers at the ABC