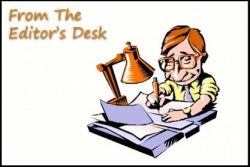 19.05.19.
It's time for this editor to pause a while and smell the roses. Morning Mail was conceived more than five years ago to polly-bash and to bring information to its readers not on the agenda of MSM. We use satire, we lampoon and make fun of the many fools that have their hands on the levers of power—a little bit of sugar helps the medicine go down. Besides, this is the only place I can try to be funny and witty.
Several weeks ago the board decided that if Labor were to win government the country would be lost, stuffed, and therefore MM's contribution would be pointless. And as such, lack of quality sleep to the detriment of us aging codgers would be like spitting into the wind. 3:am comes early 24/7 with last post around 7:am. Then comes frequent visits to weed out naughty words and libelous statements that might offend some PC bastard or abolitionist of truth.During our time we have posted more than 13,000 stories. Our site averages about a million reads per year. How many 'flick-offs' we can't assess. Our very effective security system has averted 247,969 malicious login attempts—three while I write this.
All this is to say that our early morning news round up will change somewhat and may not suit the early birds. While none of us at MM want to stop writing, we do need to ease deadline pressure. That should in turn give us more time to research, which has become increasingly difficult given the amount of rubbish dragged up by search engines.
As I have said recently regarding Jack Richards and his dreadful health issue, MM has developed a sort of family aura in which the commenters get to know each other. It's more like swapping stories around the barbecue—we know what everyone likes to drink and eat. And, there also exists a very large crowd that watch us over the fence—they're affectionately known as lurkers. Anyway, we are not pulling the plug but will work at a more leisurely pace as old curmudgeons should. Your humble, but opinionated servant, Chaucer.