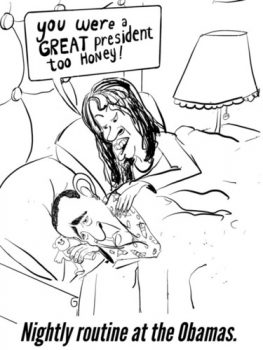 The biggest loser – Obama
It helps to understand the US elections to realise two things.
One – there was no Blue Wave or Red Wave – when all is said and done it was an ordinary election.
Two – Trump commands legions of #MAGA voters a cursed sight more loyal to him than to the Republican Party – the Senate who stood by Trump survived, the House of Reps Republicans did not.
The one Democrat Senator in a Republican state who voted for Kavanaugh, Manchin, survived, the other Senator in a Republican state, the popular Heidi Heitkamp was swamped.
With a spark lit by a week of explosive, nasty, deplorable Senate hearings to confirm Judge Brett Kavanaugh to the Supreme Court, Trump leveraged the fidelity of his followers to back unknown Republican Senate candidates in series of high-octane rallies down the stretch of the campaign, putting battle-tested Democratic incumbents with more money on the defensive and putting their shot at winning the majority in the Senate out of reach.
Trump showed uncanny appreciation of the situation when he threw his considerable weight into the Senate fight.
In fact, when it came down to it, it was Trump v Obama and the big loser was the equally hard-campaigning Obama, the guy who thought he was the star of the Democratic Party and who, throwing the tradition of former presidents staying aloof from politics out the window, campaigned hard, long, and loud, for Democrats in this midterm. Turns out the ones he fought the hardest for lost.
Now he stands exposed as politically irrelevant, powerless, an embarrassment. Sorry 'bout that legacy thing, Bollocks ole' boy. Every time you open your yap your tiny legacy shrinks, until you will be unable to see it without the aid of an electron microscope.
The seats that were no midterm campaigns that were not shoo-ins, some very high profile, and high media-exposure ones: Joe Donnelly of Indiana for Senate. Bill Nelson of Florida for Senate. Andrew Gillum of Florida for governor. Stacey Abrams of Georgia for governor; those were the ones Obama went hoarse campaigning for, yelling and waving his arms, voice cracking, speeches described as fiery, telling voters to vote for these guys or cut their own throats and that of the kids because it was the end of civilisation.
With Gillum in particular, racial appeals were a factor and Obama's presence was supposed to help. Gillum had a big media buildup about being a first black governor of Florida as an argument to draw votes, and he later cried racism to fend off corruption allegations. Adding Obama to campaign was obviously part of the appeal. This time, the race-politics identity card simply failed.
And Obama? What did he get? Zilch. Zip. Zero. Nada. The voters rather noticibly rejected the ex-president's appeal for votes. Been there, done that.
A prized and coveted Obama endorsement, or campaign stop, obviously isn't the election winner in a tight race it used to be. In fact,when it matters, Obama's a bust. The lesson here that Democrats will surely notice is that it's largely useless.
Obama will be not be easy to get off the stage, given money raising power, but there will be less about him on the campaign trail.
In fact, the Democrats stand exposed as the only star turns at their rallies are Hollywoood types and the Obamas – both of these lost out and for the same reason, their stupid egos.
In Obama's final campaign speech there were 90 I's, me's and my's.
Think Turnbull and you recognise Obama – conceited and incompetent with it.