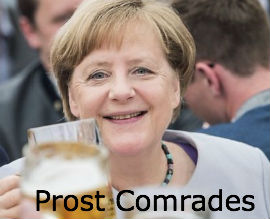 01.07.19.  
Those who saw Angela Merkel's arms clasped about her body trying to arrest an awful bout of tremors would feel for the poor woman and wonder what the condition was to cause such shudders. "Dehydration" one of her aids reported. A more recent update suggests it was more than that and now there is talk that the  chancellor has a, "neurological problem." It'snot the sort of thing to instil confidence in a powerful European leader.
Speculation about Angela Merkel's health prompted by her uncontrolled bouts of trembling intensified yesterday after it was claimed that one western intelligence agency believed that the German leader was suffering from a "neurological problem".
Source: The Times
Trembling Merkel 'has neurological problem'
Merkel, 64, attending the G20 summit in Osaka, Japan, insisted she was in good health despite the incident on Thursday, when she was seen clutching her arms in a failed attempt to prevent herself shaking during an official ceremony.
It followed a similar bout that had occurred in the previous week when she was standing alongside Volodymyr Zelensky, the Ukrainian president, during his visit to Berlin.
"I have nothing particular to report, but I'm fine," Merkel told reporters, but she failed to answer when asked if she had consulted a doctor.
Bild, Germany's bestselling tabloid, claimed yesterday that foreign intelligence services were trying to access her health records, believed to be held at a secure military medical facility.
"One leading western intelligence service is certain: that the health problem of the German chancellor 'is a neurological problem'," it said.
The newspaper did not give further details, but the term could be taken to refer to a range of ailments from orthostatic tremor to Parkinson's disease.
The chancellor's entourage has attempted in recent days to downplay concerns. It has been telling the German media that the second attack was largely psychosomatic and had been brought on by Merkel's fear of a repetition of the first one – which she had blamed at the time on her having drunk too much coffee and not enough water, given the hot weather.
Germans, although traditionally respectful of their leaders' private lives – especially their medical history – are beginning to demand answers, however.
The incidents have also renewed debate about whether Merkel, who has been in power since 2005, will serve out what she has said will be her final term in office.
As part of a planned long goodbye, she gave up the leadership of her Christian Democratic Union party last December and was replaced by Annegret Kramp-Karrenbauer, who is eventually expected to replace her as chancellor.
Nico Fried, a commentator for the Suddeutsche Zeitung newspaper, noted that Merkel had vowed after winning the last election in 2017 to remain for the full four years "as long as her strength allowed".
The corollary, he said, was that the chancellor should make it clear if this were no longer the case.
"We can expect her to show this respect towards citizens – just as Merkel can expect respect from the public when it comes to discussing her health," Fried wrote.
There was little time for Merkel to rest after the 6,000-mile flight back to Europe, with gruelling talks this evening in Brussels to choose the new leader of the European Commission that are expected to go on well into tomorrow (Monday) morning.
There were indications in Osaka that the choice was between two names: Frans Timmermans, 58, the Dutch vice-president of the commission, who was the lead candidate for Europe's socialists; and Margrethe Vestager, 51, the EU's Danish competition commissioner, backed by the Liberal group, of which Macron's Republic on the Move party is a part.