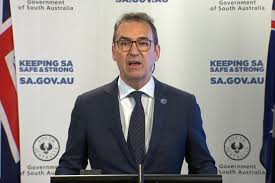 21.11.20.  
"Lies, like pizzas, come in different sizes. Small, medium, large, family, party.
As far as lies go, this was a triple-supreme, cheese-filled crust, party-sized monster, with extra ham and double pepperoni, dreamt up by a selfish, card-carrying idiot who – after applying the pineapple – shoved its rough end square up the backside of the South Australian economy. Let's stop and marvel at the impact this bloke has had on South Australia over the past three days. Weddings and funerals cancelled. Elective surgery banned. The entire Schoolies celebration scrapped. Every pub and restaurant shut, their dumpsters heaving with spoiled perishables. Almost every business closed, students barred from attending school and university, supermarkets pillaged, bottle shops cleaned out."
Source: David Penberthy, News Corp
Coronavirus South Australia: As lies go, the Woodville Pizza Bar worker's was a triple-supreme
Vast traffic jams as unnerved residents queued for as long as 10 hours to have swabs jammed up their snouts at hastily expanded COVID centres across the suburbs. More than 4000 South Aussies forced into quarantine.
Millions and millions of dollars ripped from the economy.
All because this bloke lied about the fact that he was secretly working at a pizza bar – while also working at a medi-hotel – claiming he was merely a customer and creating a baseless but understandable fear that he may have contracted the virus from a pizza box.
I have a journalistic desire to find this man but the humanist in me hopes he remains anonymous.
If this bloke popped up today as an identifiable figure at the Rundle Mall Balls, he would lose his own.
The press conference held by Premier Steven Marshall and his Police Commissioner and Chief Medical Officer was easily one of the strangest things I have seen in my journalistic career.
Their fury was palpable. The criticism in business circles was that the lockout had been far too draconian in its application; now, we know that it need not have happened at all. For that, we can ultimately blame one man.
As of 12.45pm today, SA Police had deployed a squad car to the Woodville Road pizza bar and two officers were parked outside.
I don't think they were ordering a pizza, even though it's safe to do so now, apparently.
I don't think anyone will be ordering a pizza there any more though.
As a wry message on the pizza bar's Google review page this afternoon said: "Incompetent staff. They forgot my garlic bread. They also put the whole state into lockdown."
For all the broader damage that has been brought by this madness, there is one business that will definitely never recover.