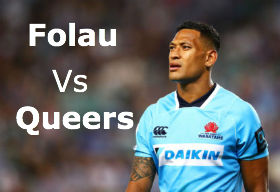 23.06.19.  
Okay, the game is afoot! A full blown contest between Israel Folau who seeks to raise $3 million for legal expenses against Rugby Australia. At 5am this day $606,742 has been raised by 7,942 people in three days.
A queer mob has launched a counter goFundme which will give the proceeds to a queer charity. So far $6,472 has been raised by 223 people in one day.
MM will track this gruelling battle between the puritan and the poofs. It will be interesting to see if wealthy queers rush to dump large sums of money to prove the world is mostly queer. Like the bloke at Qantas is alleged to have done with the same sex marriage caper—a million dollars it is said?Source: Fairfax/AAP
'More funds than Folau': Rugby fan sets up counter GoFundMe for LGBT charity
A rugby fan has launched a GoFundMe campaign aiming to raise "more funds than Folau" for an LGBT rights charity, in an attempt to show the controversial rugby player that "intolerance will not be tolerated".
Launched two days after Israel Folau asked for public donations for his legal action against Rugby Australia, the campaign aims to raise funds for Stonewall, the UK charity behind a "Rainbow Laces initiative" in 2018, which encouraged sports players to stamp out homophobia in sport.
A campaign raising funds for a LGBT charity has criticised Israel Folau days after he asked people to donate money for his legal fight against Rugby
"Rugby regularly labels itself as an inclusive sport, one that supports people from all walks of life," the new GoFundMe campaign's description says.
Campaign organiser, Robbie Owen, identifies himself as the UK-based creator of YouTube channel, Squidge Rugby, which provides commentary on international games and news. The channel has 69,000 followers, and a video discussing "the Israel Folau situation" received more than 119,000 views in April, shortly after Folau was dismissed by Rugby Australia.
"I have set the goal to $3 million AUD just to match Folau's overambitious aims. I don't expect for a moment that we'll reach this 'target', but the real aim is just to raise more funds than Folau," Mr Owen wrote on the fundraiser page.
"The money will be going to a good cause, and it'll send the message once and for all: If he wants to continue to use his profile and platform to preach hate, Israel Folau picked the wrong sport, because intolerance such as his will never be tolerated in rugby."
The campaign was trending on GoFundMe on Saturday, having raised more than $4000 in a day from more than 150 donors.
"To me, personally, Rugby Australia's [decision to suspend Folau] felt like a landmark moment. One of the sport's governing bodies taking a stand, and showing that even arguably their nation's highest-profile player is not above consequences for betraying the core inclusive values of the game," Mr Owen wrote on his GoFundMe page.
"Ignored in all this legal bother… are the individuals who may have been made to feel, with such a high-profile player spouting such bile, that they were not a part of the rugby community, that they were not welcome, when nothing could be further from the case."
On Saturday evening, Folau's fundraiser had received more than $570,000 in donations.
The former Wallaby thanked donors and said he was "unsurprised" by criticism from RA and media personalities regarding his decision to establish the GoFundMe page.
"The money that is donated will be used to fund my legal battle, which could take years. While the attacks against me have shown I have a big fight on my hands, I will stand strong," Folau wrote on social media.
"Your support and my faith in Jesus Christ will give me strength."
Folau's GoFundMe campaign to raise $3 million has been criticised due to a disclaimer on the page which appears to ensure he is not obliged to use the money for his fight against Rugby Australia.
As a good Christian man, Folau's word should be his bond
Mr Owen on the other hand stated: "any money raised is set to go straight to Stonewall, never myself."
Reactions to Mr Owne's campaign were divided, with some commenters suggested that donations should be split with Australian charities that promote LGBT equality and inclusion.
"Many of us in Australia were proud of the firm stance taken by Rugby Australia and how it said to the world Australia is for inclusion in sport. Those people are looking for a way to stand with RA against a costly court battle," one commenter said.