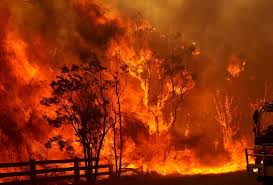 12.11.19.

Who shall forget t
he Victorian
Black Saturday fires in February 2009 that killed 180 people and burned 450,000 hectares (1,100,000 acres). Thousands of farm animals perished in the 400 fires at that time. The RSPCA estimated that over a million animals also perished. David Packham, bushfire expert and research fellow at Monash University, argued that high fuel loads in bushland led to the destructive intensity of the fires, saying that, "There has been total mismanagement of the Australian forest environment." He cautiously did not name the Greens, but the lessons were not heeded by the Greens as we see now in Queensland and NSW.
On Saturday Greens Leader Richard Di Natale said,
while he is saddened by the loss of life from bushfires in NSW and Queensland, "thoughts and sympathies are not enough". Dr Di Natale said for decades it has been known that burning climate changing fossil fuels would lead to more frequent and intense bushfires.
In the subsequent inquiry into the Victorian Black Saturday 2009 it wasn't climate change which killed so many, nor was it arsonists, although a few were arrested, it was the unstoppable intensity of a bushfire gorging its way through huge quantities of ground fuel that had been allowed to accumulate over many years. It was also the power of Green's ideology ensconced in local government that opposed most if not all attempts to reduce fuel hazards as a mitigation measure. At the time there was much talk about holding the bloody Greens to account—but they slithered out of that like sewer rats down a drain!
************************************************
Source: Greg Brown, Olivia Caisley, News Corp
Greens policies increasing bushfire threat, Barnaby Joyce says
Barnaby Joyce says the policies of the Greens have increased the bushfire threat, as he claims a lack of hazard reduction burning has helped fuel fires in regional NSW and Queensland.
The former deputy prime minister said "people are once again talking about indigenous land management" because there were too many regulations around controlled burning ahead of bushfire season.
"The problems we have got have been created by the Greens," Mr Joyce told The Australian.
"We haven't had the capacity to easily access (hazard) reduction burns because of all of the paperwork that is part of green policy.
"We don't have access to dams because they have been decommissioned on national parks because of green policy. We have trees that have fallen over vehicles and block roads, so people cannot either get access to fight a fire or to get away from fires. And we can't knock over the trees because of Greens policy.
"So many of the practicalities of fighting a fire and managing it have been stymied by the Greens.
"A lot of people are talking once more about indigenous land management because they didn't have to go through 1001 reports that they have to go through today."
Mr Joyce said it was "infuriating" the Greens were attempting to score political points by saying the government's "inaction" on climate change had contributed to the fires that have killed three people.
He said climate change action in Australia would do nothing to reduce the bushfire risk unless there was also action taken by China, India and the United States.
"There is nothing we have done in the Australian parliament that has brought about the absolute devastation on so many people's lives," Mr Joyce said.
"The only reason you are driving this agenda is for your own political purpose. Even if it were to succeed it would have, by itself, absolutely no effect.
"You need China to actually comply with it, which they don't have to do until 2030, you need India to comply with it which they don't have to do until 2030, you need America to sign up to it, which they never did."
Deputy Nationals Leader Bridget McKenzie has accused the Greens of exploiting the misery of fire-affected communities for their political advantage, as large tracts of New South Wales burn and as the state braces itself for "catastrophic" fire conditions on Tuesday.
Senator McKenzie told Question Time on Monday there was no denying climate change was causing heatwaves and intensifying fire conditions, but argued the Morrison government was the first to put any "real money on the table" to help prepare for the next drought.
"We know that climate change is causing heatwaves, fire weather and drought to become more frequent and intense," Senator McKenzie said. "That is why we have a raft of measures across government to actually deal with this."
She said the most recent Agriculture Ministers' Forum had developed a range of plans to tackle climate change.
"I recommend you read that document before standing up here and somehow using the misery of those who are in regional New South Wales and Queensland to your political advantage."
Labor Senator Penny Wong said the immediate focus should be on firefighters battling the blazes, as well as people at risk and those grieving lost loved ones.
"But I will say, it is the responsible thing to when we are through this current crisis, to focus on what we have to do to keep Australians safe," she told parliament.
"When I was climate minister, scientists were already warning of more intense fire seasons. Regrettably, these warnings have been proved correct."
Greens Senator Larissa Waters echoed her colleague Adam Bandt's sentiment that "thoughts and prayers" were not enough to combat worsening fire conditions.
She told the Senate that scientists had been advising governments since 2006 about climate change and its contribution to increased fire risk.
"We're already in the future," she said. "They told us the fire season would extend and the window for crucial prescribed burning would narrow. What Australian climate scientists predicted in 2006 has come to pass and governments have had every opportunity to act and have failed."
Senator Waters said the government's "complete lack of climate policy" was simply pouring fuel on these fires and making them more likely and more intense.
"The question for us is whether this parliament will continue to fail those comments communities," she said.
Deputy Prime Minister Michael McCormack has lashed the "disgraceful, disgusting" behaviour of "raving inner-city lunatics" for linking climate change to the ferocious bushfires burning across Queensland and NSW.
Speaking on ABC Radio on Monday Mr McCormack said Australia had experienced bushfires since "time began" and defended the Morrison government's decision not to meet with senior fire and emergency service leaders that have demanded action on climate change.
It comes as firefighters across Sydney and NSW brace themselves for predicted "catastrophic" conditions on Tuesday after three people were killed and 150 homes were destroyed over the weekend.
"What people need now is a little bit of sympathy, understanding and real assistance, they need help, they need shelter," Michael McCormack told ABC Radio on Monday.
"They don't need the ravings of some pure, enlightened and woke capital city greenies at this time when they're trying to save their homes."
Mr McCormack said it was "disgraceful" for Greens leader Richard Di Natale and his party colleague Adam Bandt to use the bushfires to score political points. He said he found it "galling" when people raised climate change in relation to bushfires.
But Mr Bandt told reporters in Canberra on Monday Mr McCormack was a "dangerous fool" who was putting lives at risk through inaction on climate change.
"Thoughts and prayers are not enough, we need science and action too," Mr Bandt told reporters. "They've done everything in their power to make these catastrophic fires more likely.
"When you cuddle coal in Canberra, the rest of the country burns."
Agriculture Minister David Littleproud defended his colleague on Monday, telling ABC News Mr McCormack was trying his best to get results for the communities that have been impacted.
"Let's have those conversations in the cold, hard light of day after the event," Mr Littleproud said of climate change's contribution to the inferno. "But our focus and energy should be on the men and women fighting these fires and also the state, federal government and local, men and women, and children who are at risk."
Glen Innes Severn council mayor Carol Sparks blasted Mr McCormack on Monday, telling ABC News the Deputy Prime Minister needed to listen to the science.
"Well, I probably couldn't respond how I really feel on television but I think that Michael McCormack needs to read the science," she said. "And that is what I am going by, the science. It is not a political thing. It is a scientific fact that we are going through climate change."
NSW Premier Gladys Berejiklian, who has declared a state of emergency across the state over the next seven days, said that while there was "no doubt" drought had contributed, she cautioned against politicising the situation.
"There is no doubt the deep drought that contributed to the conditions we are seeing but I certainly don't think it's appropriate to get into a political argument into what the causes are," Ms Berejiklian told ABC News Breakfast on Monday.
Labor frontbencher Penny Wong urged the feuding parties to dial down the heated rhetoric and instead engage in a more sensible discussion about bushfire preparedness and climate change.
"When we get through this, it is a responsible thing for us to focus on how we plan to keep Australians safe," Ms Wong said.
"I'm a former climate minister … warnings about a longer bushfire season and more intense fires have been on the table for a long time."
Senator Wong said right now the focus needed to be on the affected communities and a debate about the cause of the bushfires could come once the immediate threat eases.