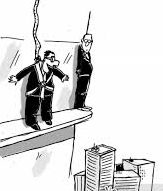 016.08.19.  
A lot of money was made yesterday as panic wiped $55 billion off the books. The brokers get their fee when you win or lose. Too many players frighten too easily—like lemmings they follow each other over the cliff. Like a bouncing ball the market returns, often higher than the last time, and so it goes and always has. Judith Sloan should be heeded, more so than your sales broker, whom with urgency puts cheese into the ever ready trap. Acquaint yourself with the smell of gorgonzola cheese and remember it well!
It was a grim day on the Australian Securities Exchange yesterday, with $55 billion wiped off the value of shares. It was not so long ago that we were celebrating a peak in the market as signified by the All Ords index.
Source: Judith Sloan, News Corp
Sharemarket plunge is grim but not gruesome
It's important to bear in mind the difference between the equity market and the real economy, however. The equity market can weaken even if the economy remains fairly strong.
Having said that, most of us are invested in the stockmarket either directly or through our superannuation accounts. So a tanking sharemarket is a dampener on those important animal spirits that keep the economy rolling on, particularly in relation to household consumption, which is the largest single component of GDP.
The global headwinds and associated uncertainty that are affecting the Australian economy are becoming stronger — think the US-China trade war; the Hong Kong situation; Brexit; and the German economy going into recession. These will inevitably affect growth in our economy and the recent rapid fall in the price of iron ore — from a high base — is not a good sign.
While our GDP growth has been sluggish, it is unlikely the June figure, due out early next month, will be negative.
A technical recession — two consecutive quarters of negative growth — is unlikely but, were it to occur, it is somewhat down the track. Our labour market continues to perform strongly, with yesterday's figures reinforcing this point.
The odds are that the Reserve Bank will further cut the cash rate by 50 basis points before the end of the year, but the government will need to be prepared for any fallout of decelerating growth.
While there are good reasons to hang on to the budget surplus this financial year — if only to give us some wriggle room if things really turn pear-shaped — it is time for the government to get on with dealing with some of the medium-term constraints that are holding back the economy: red and green tape and complex industrial relations laws are two examples.