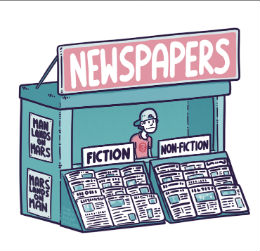 Fake news expected to ramp up for elections
Don't you wonder, or perhaps wish that Australia's conservative leaders would boycott fake news generators like the ABC, SBS and Fairfax Media in the same manner that Donald Trump has with his lot in the US?  Reporter Mark Schliebs writing in The Australian today sounds the fake news warning bell about what Australians will have to deal with in the lead up to the general elections early next year. Given that Labor, according to the polls, is expected to sail into a whitewashed victory, the fake news lure has been cast for some time and the gullible have rushed the bait.
Fears of a spike in activity in ­Australian politics on fringe website­s notorious for organising dis­inform­ation campaigns are starting to be realised only months before the first federal election in the era of "fake news". About 5500 posts relating to Australian politics were made on the platforms in the past month alone (nearly a third mentioned immigration), according to Story­ful, a social media intelligence and news agency owned by News Corp, the ultimate publisher of The Australian, which has been monitoring the sites.
Source: News Corp
Fringe-dwellers ramp up pre-election fake news
This followed a spike in mis­information campaigns during the US mid-term elections last month, and there are fears fringe groups may try to do likewise in the lead-up to next year's federal election. Storyful chief executive Sharb Farjami said the problem was "alive and well".
"Storyful's work on the 2017 French presidential election and the 2018 US mid-terms not only demonstrated that elections are a major battleground for inform­ation warfare, but it's always evolving,'' Mr Farjami said.
"Australia is the next target. Disinformation and misinform­ation now spreads farther and faster than ever. In recent elections­, bad actors … weaponised information, prompting consumers to inadvertently share fallacies and ignore facts. There's still plenty of work for newsrooms, journalists and platforms."
Storyful's research says there have been signs of co-ordination between users of the platforms for Australian politics. Some users have begun publicly declaring support for senator Pauline Hanson or Scott Morrison and there have been calls to create memes to help them at the election.
Between November 21 and December 20, Storyful recorded 882 instances on the platforms — which include 4chan, Gab and Reddit — referring to "Morrison". "Shorten" was identified in 501 posts. "Hanson" was referred to 271 times.
Gab, a platform used by the alt-right movement and white nationalists in the US, had more than 2610 posts about Australian politics. Gab gained infamy when it emerged that Robert Bowers, who shot dead 11 people in a US synagogue in Octobe­r, used it to share anti-Semit­ic messages shortly before the massacre.
On the website 8chan, which is similar to the anonymous message board 4chan in its associations with hoaxes and bigoted posts, a user specifically encouraged people to produce memes for the Australian election. "I am making this thread to make some propaganda images anti-Shorten and Pro-ScoMo," the user posted.
Recent population projections from the Australian Bureau of Statistics also sparked discussion about immigration. This month, 4chan was used by anti-immig­ration advocates in Ireland to ­organise protests against a new migration pact.
Reddit, where 2162 posts referenced 23 Australian politics-­related search terms in the past month, does not share the notoriety of 4chan or Gab, but does host controversial discussions.
The posts do not indicate any foreign involvement, and ASIO head Duncan Lewis told a Senate estimates committee hearing in October he had "no evidence to suggest there has been state-based interference, particularly Russian interference, in Aust­ralian elections".
The Australian Elect­or­al Com­mission, departments of fin­ance and home affairs, and Australian Cyber Security Centre formed an electoral ­integrity assuranc­e taskforce in June. A Home Affairs spokesman said it would "ensure potential risks to the integrity of the electoral proces­s, especially in relation to cyber ­interference, are identified and ­remediated".