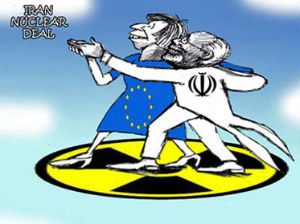 15.04.19.
It won't be a day too soon when the EU collapses.
Its lunatic one-size-fits-all regulations, its crackpot courts, its arrogant overriding of another's sovereignty are all bad enough, but this sleazy mob, in trouble financially, is hoping to recoup by doing deals with Iran.
No, we're not, they cry.
Well, on the 31st of January after more pressure from Trump Britain, France and Germany announced a new payment mechanism known as the
Instrument in Support of Trade Exchanges
(INSTEX).
The whole point was to preserve the the Joint Comprehensive Plan of Action – aka the Iran nuclear deal, after the US left the deal in 2018 and reinstated and broadened US sanctions on the country in November 2018.
STEX will support legitimate European trade with Iran, focusing initially on the sectors most essential to the Iranian population — such as pharmaceutical, medical devices and agri-food goods."
But Blabbermouth Federica Mogherini, Vice President of the EU, said, INSTEX was "essential for the continued full implementation of the nuclear deal".
"Alongside Iran's implementation, the lifting of nuclear-related sanctions is an essential part of the deal so we will continue to work to preserve the economic dividends of sanctions lifting."
What she is saying that Iran has given up on their plan to blast Israel off the map – and anyone that supports Israel. How she knows is that the Mad Mullahs told her so.
Like they told BathHouse Barry, who lifted the sanctions in the first plance and sent a cartload of cash to sweeten the talk.
But US Secretary of State Mike Pompeo, referring to original documents liberated by Israel, states that the nuclear deal was "built on lies."
In addition, the head of the Atomic Energy Organization of Iran, Ali Akbar Salehi, in a recent interview with Iran's state-owned Channel 2, made it clear that the flimsy "nuclear deal" has done nothing to stop Iran from making advances in its nuclear program.
According to Iran expert Dr. Majid Rafizadeh. "the latest reports on Iran's nuclear progress,"also indicate that Iran is on the threshold of modernizing its mechanism for producing highly enriched uranium, which can be utilized to build a nuclear weapon".
With the sanctions in place and the EU saying they are complying with the sanctions, official figures revealed that German exports to Iran
grew
by 4% to 2.4 billion euros in the first 10 months of 2018, and monthly export volumes are expected to average 200 million to 250 million euros a month in 2019.
In October 2018, German goods exported to Iran totaled almost 400 million euros ($455 million), representing a surge of 85% from the previous October and the highest monthly volume since 2009, according to Reuters.
Germany is now refusing even to disclose Iranian attempts to obtain nuclear weapons and missile technology, and claiming that it no longer keeps such statistics.
If Iranian attempts to attain nuclear weapons leave major EU powers undeterred from doing business with Iran, what then about Iran's atrocious human rights record? Europe, after all, likes to boast that it is committed to human rights.
"The European Union," the EU professes, "is based on a strong commitment to promoting and protecting human rights… Human rights are at the heart of EU relations with other countries… EU policy includes:
promoting the rights of women, children, minorities and displaced persons
opposing the death penalty, torture, human trafficking and discrimination
defending civil, political, economic, social and cultural rights
defending human rights through active partnership with partner countries, international and regional organisations, and groups and associations at all levels of society
inclusion of human rights clauses in all agreements on trade or cooperation with non-EU countries.
When it comes to Europe's relationship with Iran, none of those lofty principles appears to matter at all. The Poms and Frogs and Krauts think they are just bullshit.
Amnesty International's recently stated:"The [Iranian] authorities heavily suppressed the rights to freedom of expression, association and peaceful assembly, as well as freedom of religion and belief, and imprisoned scores of individuals who voiced dissent. Trials were systematically unfair.
Torture and other ill-treatment was widespread and committed with impunity. Floggings, amputations and other cruel punishments were carried out.
The authorities endorsed pervasive discrimination and violence based on gender, political opinion, religious belief, ethnicity, disability, sexual orientation and gender identity. Hundreds of people were executed, some in public, and thousands remained on death row.
They included people who were under the age of 18 at the time of the crime".
As for women in particular, it seems, were especially subjected to abuse. According to the report:
"Women remained subject to entrenched discrimination in law and practice, including in access to divorce, employment, equal inheritance and political office, and in family and criminal law…
The authorities failed to criminalize gender-based violence…
The legal age of marriage for girls remained at 13, and fathers and grandfathers could obtain permission from courts for their daughters to be married at an even younger age. All 137 women who registered as presidential candidates were disqualified by the Guardian Council.
President Rouhani included no woman ministers in his cabinet, despite civil society demands. Compulsory veiling (hijab) allowed police and paramilitary forces to harass and detain women for showing strands of hair under their headscarves or for wearing heavy make-up or tight clothing…"
OK, so the EU believes the Mullahs that they are not building nuclear weapons, and the civil and religious rights of Iranians are fine, then how about the fact of Iran being the world's leading state sponsor of terrorism?
After all, Iran plotted four terrorist attacks on European soil since 2015 alone, according to the Dutch government. It alleged that Iran committed two assassinations in the Netherlands, and plotted one attack in Denmark and another in France — at a rally of dissidents.
Collaboration with a murderous enemy is fine with the EU as long as the money rolls in.
We've got shares in Iran's economy,
Uranium, explosives and tin,
We're building new brothels in Tehran
Mein Gott, how the Euros roll in.