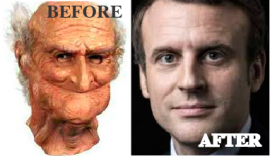 A politician's vanity is expensive
Emmanuel Macron's face in a jar and his arse in a sling—let them eat cake!
Morning Mail's vainglorious Editor spends approximately $550 per year on internet data, hairdressers, deodorant and toothpaste! No eye glitter, shrinkle creams, fake tans or face makeup for this stallion! Reason enough for looking like a slob.
Mr Turnbull charged taxpayers $246,000 expenses billed as "e-materials" from May last year to June this year, about 15 times what the average MP spent. In the same period Minister Scott Morrison spent $11,354 and Bill Shorten $2,563. Like so much about Turnbull's secretiveness his cost of vanity can't be found.
Of course, the little pipsqueak French President Emmanuel Macron and his wife Brigitte keeps her hair in fine order and his face heavily made up with the help of their official hairdresser, whose services to the presidential couple cost the French taxpayer a whopping €5,200 (A$8,035) a month.
Their highly paid hairdresser must be ready with his or her hairdryer and make-up kit "in the Élysée Palace and during visits", according to the Court of Accounts, whose calculations make the total hair and make-up bill an annual €62,400. (A$96,416).
The 39-year-old Emmanuel, a prize-winning actor as a student, has signed off all the bills, saying an attractive public image is essential. But critics said it all pointed to a vain head of state who was spending excessively 'to hide his real face'.
***************************************************************
Source: UK Telegaph
Mr Macron, the youngest president of France since Napoleon, is using a make-up artist known only as 'Natacha M'.
She gets to work before every public appearance, whether in a TV studio or at the Elysee Palace in Paris.
Le Point news magazine reported that she had already put in two separate bills, one for the equivalent of £9,000,(A$15,597) the other for £15,000. (A$25,995).
A spokesman for the president said: 'We called in a contractor in as a matter of urgency', adding that Natacha M had also assisted Mr Macron during his presidential campaign.
Mrs Macron was her husband's drama teacher at school, before the two embarked on a passionate affair while she was married to someone else
Mr Macron has always used his boyish image to his advantage, despite his wife Brigitte Macron being 25 years older than him.
Mrs Macron was his drama teacher at school, before the two embarked on a passionate affair while she was married to someone else.
The pair now like to be pictured out cycling, or acting like a pair of youngsters who are happiest at their beachside home in Le Touquet, northern France, or in a holiday villa in Marseille.
Mr Macron's party is called En Marche! (On the Move!), but is more commonly known as EM! as these are the same initials as Mr Macron's.
A member of the opposition conservative Republicans party said it all added up to a 'hyper-vain president'.
The source said: 'He thinks nothing of spending thousands on himself, at a time when he is just about to start cutting jobs. It seems that he just wants to hide his real face. It would be interesting to see what the first lady Brigitte is spending on make-up too!'
Mr Macron's aides meanwhile insisted that the make-up bill would now be reduced, and pointed to the fact that his predecessors also spent a great deal on their personal image.
Former conservative president Nicolas Sarkozy spent more than £7,000 (A$12,131) a month on make-up, while the almost bald Socialist Francois Hollande gave £9,000 (A$15,597) a month to his barber.