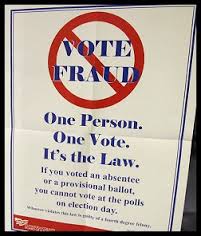 Electoral fraud: "Vote early and Vote often"
I first heard that phrase, "Vote early and Vote often" many years ago while going to vote. It came unabashedly in a loud, gravelly voice from, would you believe, a Labor booth worker strutting to and fro shoving union propaganda in your face.
If the AEC is admitting to 8,000 cases of multiple voting one must wonder what the real number is. Remember, it is not in the interest of the AEC to disclose true figures. For ever, they have staunchly defended their system as being virtually fraud proof. Any declaration adverse to that notion is to expose an electoral system that is simple to rort and anyone with a keen eye knows it happens on a scale that can and will determine seat outcome.
Even if some fool does admit to multiple voting, perhaps 70 times if there are 70 polling booths in their riding, how does the AEC know for whom that person voted—they don't—and the rorter is unlikely to confess. Multiply that by a group with five in a car times several cars, times 70 booths?
The real worry about crooked voting is that all parties are aware of it and so far, none have lifted a finger to stop it. What does that suggest to you?
Electronic voting must be introduced. If punters can place a bet on any horse in any race in any country on earth without fraud attack why can't the AEC get with it? Perhaps it's the old "cover thy incompetent arse" and save thy well paid job?
Australian Electoral Commission to refer 8,000 cases of multiple voting in 2013 federal election to police

The Australian Electoral Commission (AEC) will ask federal police to investigate about 8,000 cases of multiple voting from last year's federal election.

The commission has told Senate Estimates it is part of a tough new approach – in comparison, just 19 multiple votes from the 2010 federal election were referred to the Australian Federal Police (AFP).

Senate Estimates has heard 2,000 people have admitted voting more than once, citing reasons including being drunk, confused or "trying out the system".

A further 6,000 people have not adequately explained why they voted multiple times.

Acting Electoral Commissioner Tom Rogers says the AEC will refer all those cases to the AFP, which may then hand matters on to the Director of Public Prosecutions.

"Previously when someone gave us one of those reasons, we accepted those and in many cases did not refer those to the AFP," he said.

"The point of the new policy [is] that may well be a reason but frankly it's irrelevant in terms of the act.

"So all of those are being referred to the AFP regardless of reason provided. I expect that many of those will be genuine."

About 10,000 multiple votes have been attributed to official error.

Last month, the Senate election in Western Australia was re-held after results from September's election were declared void when about 1,400 ballots disappeared during a vote re-count.

The missing ballots led to the AEC re-examining its security procedures and to an inquiry by former AFP chief Mick Keelty.

Dozens of people at an aged care facility in Perth had to vote a second time in the election re-run because of a problem with a ballot box.

The AEC said an unsecure ballot box used at the facility meant the ballots were invalidated.
Source: ABC