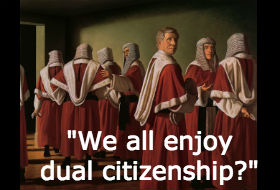 14.08.19.  
Australians deserve that the great diversion of lousy governance about s.44 dual citizenship, Vis-à-vis eligibility to sit in Parliament, was well and truly decided before the last election. But, NO, and here we go again with another , "look over there" screwup by all those who knew it would happen. None of them are worth feeding!
An audit of citizenship records has revealed a rump of Labor MPs likely sat in parliament in breach of section 44 of the Constitution, dismantling former leader Bill Shorten's claim the ALP had "strict vetting processes" and there was "no cloud over any of our people".
Source: Rosie Lewis and 
Geoff Chambers


, News Corp
More federal MPs under foreign citizenship cloud
In addition to the five Labor MPs who fought the Super Saturday by-elections or resigned from parliament in the midst of the dual citizenship crisis that ensnared the 45th parliament, four additional MPs appear to have contested previous elections while holding foreign citizenship. More than 20 parliamentarians — including senior Coalition and Labor MPs — have also refused to provide documentary evidence in the new citizenship register showing they are not in conflict with section 44, which prohibits dual citizens from sitting in parliament. Many MPs simply list their parents, grandparents and spouses' citizenships with no further explanation.
The Australian understands both major parties are unlikely to pursue fresh High Court referrals of members and senators, with rules pushed through in the final two days of the last parliament to avoid escalating cases.
Described by independent MP Andrew Wilkie as "grubby", the procedure means a person's election can only be referred to the Court of Disputed Returns if new evidence emerges about a person's eligibility that is not disclosed on their register. The matter must first be investigated by a parliamentary committee.
The parliamentary qualifications register shows both major parties worked to revoke foreign allegiances for first-time MPs in the lead up to the May 18 election, with Katie Allen, Gladys Liu, Dave Sharma and Phillip Thompson from the Coalition and Josh Burns, Daniel Mulino and Anika Wells from the ALP among those who renounced dual citizenships.
Anthony Albanese and Labor frontbenchers Michelle Rowland and Mark Dreyfus list complicated family histories but no documentary proof of their claims they are not eligible to hold dual citizenship, as does Treasurer Josh Frydenberg and Liberal MP Julian ­Leeser.
Labor MP Ed Husic details his parents' and grandparents' birthplaces and former citizenships and says under Bosnia and Herzegovina law a child may ­acquire citizenship but needs to be registered by the age of 23 and neither he nor his parents pursued this option.
While most MPs without documentation ­assert they are not dual citizens, they have failed to include evidence from the relevant embassy or foreign authorities confirming they are not or have never been nationals of that country.
Mr Frydenberg is the only MP in this term of parliament so far facing a potential challenge to his eligibility, after Kooyong climate activist Michael Staindl lodged a High Court petition.
Of the four additional Labor MPs who may have been dual citizens in previous parliaments, Nick Champion and Pat Conroy applied to renounce their British citizenship before nominating for the election but did not have their renunciation registered until after polling day.
The High Court has ruled a candidate must not be a dual citizen when nominations for an election close, or are otherwise ineligible to sit in parliament.
"I only was preselected a week before the election was called so physically I couldn't have gotten the form in any earlier," Mr Conroy said. "Our legal advice (when he was first elected in 2013), which the High Court disagreed with, was that the act of renunciation was signing and submitting the form."
Scott Morrison and Angus Taylor listed maternal grandparents born in New Zealand but, similar to UK law, citizenship by descent cannot be handed down from grandparents to grandchildren.
According to register documents, 23 sitting senators have renounced or lost foreign citizenship to take their places in parliament.
Perth barrister John Cam­eron, who sparked the 2017 citizenship crisis by exposing former Greens senator Scott Ludlam's dual citizenship, said politicians "knew they were vulnerable" and he wasn't "surprised about a sweetheart deal" to neutralise the section 44 stand-off.
Mr Cameron, who conceded it was clearly difficult for some MPs to prove their citizenship status, said for others the documents were easy enough to produce. However, he said it remained an issue that those who had been disqualified had not suffered any penalty, were not forced to repay taxpayer money and that some would ­receive parliamentary pensions.
Members of the public have a 40-day period from the return of the writs to lodge a petition in the High Court to challenge an MP's eligibility. After that window, which has already closed for the 46th parliament, only the House and Senate can refer an MP using the new procedure.
University of NSW constitutional lawyer George Williams said the parliament had attempted to "artificially create stability" by making it harder to refer an MP. "The problem is it may not be apparent there is a problem (with someone's eligibility) until after that 40-day period. It can take a very long time to work through citizenship issues," Professor Williams said.
"What will bring this to a head is if someone is identified as having disclosed something and it becomes apparent after this (40-day) period they shouldn't be there — in that case it's hard to see how these rules could be maintained.
''That would create a major problem of public confidence."
**************************************
ELIGIBILITY ENIGMA
MPS WHO REMAINED IN PREVIOUS PARLIAMENTS
WITH POTENTIAL DUAL-CITIZENSHIP ISSUES
BRENDAN O'CONNOR (ALP)
• Mother, father, grandparents from Ireland.
• Ceased to be Irish in October 2001. Says he first
renounced British citizenship in 1981 but had no
evidence. Officially renounced British citizenship in
August 2010.
• First elected on November 10, 2001.
PAT CONROY (ALP)
• Father and paternal grandfather from Britain.
• Despite lodging renunciation form on August 9,
2013, wasn't formally registered by the UK Home
Office until September 24, 2013.
• First elected on September 7, 2013.
NICK CHAMPION (ALP)
• Father and paternal grandfather from Britain.
Paternal grandmother a British citizen. British
government registered his renunciation on
November 28, 2007, after he applied on September 10
that year to revoke his British citizenship.
• First elected on November 24, 2007.
EMMA McBRIDE (ALP)
• Paternal grandfather from Northern Ireland, who
held British and Irish citizenship.
• Lodged alienage form in 2013 but did not hear
back. Irish authorities formally responded to confirm
her Irish citizenship ceased on April 16, 2019.
• First elected on July 2, 2016.
****************************************
NEW MPS WHO RENOUNCED CITIZENSHIP BEFORE ELECTION
KATRINA ALLEN (LIB)
• Renounced British citizenship March 2019. Received letter from
Kiribati Ministry of Justice April 2019 confirming she was not a
Kiribati citizen.
GLADYS LIU (LIB)
• Parents and grandparents born in China. Change of nationality
recorded September 2018 by the Hong Kong Immigration
Department.
JOSH BURNS (ALP)
• Renounced British citizenship June 2018. Israeli Ministry of the
Interior confirmed on March 6, 2019 he was not an Israeli citizen.
RAFFAELE CICCONE (ALP)
• Renounced Italian citizenship January 2019.
DAVE SHARMA (LIB)
• Renounced Canadian citizenship in January 2018. Renounced
Trinidad and Tobago citizenship in March 2019. Could have been
ineligible to sit if he had won the Wentworth by-election last year.
PHILLIP THOMPSON (LNP)
• Renounced New Zealand citizenship in June 2018.
ANDREW BRAGG (LIB)
• Renounced British citizenship in December 2017.
ANIKA WELLS (ALP)
• Renounced New Zealand citizenship in February 2018.
PERIN DAVEY (NAT)
• Renounced British citizenship in October 2018.
TIM AYRES (ALP)
• Renounced Canadian citizenship in 2018; was deemed to not be
a Canadian citizen.
DANIEL MULINO (ALP)
• Renounced Italian citizenship in September 2018
*************************************
MPS WITHOUT DOCUMENTATION
MICHELLE ROWLAND (ALP)
• Mother and maternal grandparents were born in Fiji.
Paternal grandparents born in Britain, father held British
citizenship by descent.
ANTHONY ALBANESE (ALP)
• States his father (who was from Italy) is not on his birth
certificate, which listed his mother as his only parent. Says he
does not know 'where my paternal grandparents were born'.
MARK DREYFUS (ALP)
• Father and paternal grandparents born in Germany. They
arrived in Australia in 1939 as stateless persons and
stripped of their German citizenship by Nazi regime. Says
neither he nor his family applied for German citizenship under
1952 German law.
ED HUSIC (ALP)
• Mother and father born in Yugoslavia. All grandparents born
in Austro-Hungarian Empire.
MIKE FREELANDER (ALP)
• Maternal grandfather born in Fiji, paternal grandfather born
in Britain and held British citizenship. Is not sure whether
maternal grandfather held Fijian citizenship. Says he was not
entitled to British or Fijian citizenship.
JOSH FRYDENBERG (LIB
• Father and paternal grandparents held Polish citizenship
until 1948. Mother and maternal grandparents held Hungarian
citizenship until 1948.
BRIDGET ARCHER (LIB)
• Does not list parents or grandparents. Says 'advice from
my mother indicates all parents and grandparents are
Australian-born but I have no documentation confirming'.
MADELEINE KING (ALP)
• Father and paternal grandfather born in the UK. Paternal
grandmother born in Ireland. Renounced British citizenship in
May 2016 but does not refer to Irish citizenship status.
ANDREW LAMING (LNP)
• Wife held Latvian citizenship when they were married.
AMANDA RISHWORTH (ALP
• Paternal grandfather born in Ireland, maternal grandmother
born in Britain. Says she did not apply for Irish citizenship.