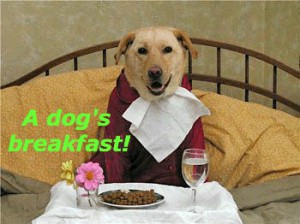 21.02.21.  
Dogs are experts at reading our emotions according to dog communicator Martin McKenna who lived with a pack of strays.
So writes Bridget Cormack in The Weekend Australian
Martin McKenna, aka 'Dog Man', 58, lives near Nimbin, NSW and is an expert in communicating with dogs. His memoir about living with a pack of dogs as a teenage runaway has been made into a play that will have its world premiere at Adelaide Festival
As an expert in dog behaviour — you've written books and spoken on radio on the subject — are there any techniques for dealing with a 'naughty' dog?

Naughtiness is only a misunderstanding of "Oh, is that what you meant?". Like if I was staring at my dog and telling it to go away. The dog's looking at me going: "I'd really love to but if you really want me to go away, could you please turn your eyes to the side and blink once very slowly."
You had a difficult childhood and ran away from home when you were 13 …
Lots of people ran away from home. In the 70s in Ireland there was extreme unemployment and total dislocation. When the men didn't have a purpose they drank, and when they drank they became angry and then they would take it out on their families. And families would start to break up. The woman is there trying to keep it all together. I just had to get out because sometimes my father would just pick you up by the leg and start bashing you up the wall. I don't hate my father. He just had a problem, he couldn't give up the drink.
You took refuge with a pack of stray dogs on the street. Most people are scared of these sorts of animals; how did you connect with them?
 If you ask anyone who ever lived on the streets, you can't be afraid. If you're afraid don't do it; stay and take the beatings. I am a dog. I'm a genetically identical triplet born in 1962 when no one in Ireland had ever seen a triplet. My father used to call us a litter of pups. I was only two pounds. I was sick all the time. I wouldn't eat and if someone tried to pick me up I would scream. You can imagine, a family that's already got three kids and then triplet boys. There's limited time, resources and money. I think that's where the separation started with me. We had two german shepherds and my mother liked to put me down with the dogs. We developed this bond … Dogs want to protect people who are broken. I think they're the best psychologists in the world. I think they know everything about our biology and our moods. You can pretend to be in a good mood and be angry underneath but the dog senses it.
What went through your mind when Andy Packer, artistic director of Adelaide theatre company Slingsby, said he wanted to make your memoir, The Boy Who Talked to Dogs, into a play?
I was about seven years old when I saw a movie with Elizabeth Taylor and Richard Burton. My father and mother were going down to the local pub; I looked at the TV and I looked at my parents and thought they should be the ones who are in the movie. Those people are faking it on the screen. My mother and father are living this for real. When Andy approached me and said he wanted to do a play I thought "yeah". This whole thing is not about Martin McKenna. It's about an amazing woman. My mother took on the whole family burden and she was still reeling from her childhood in Germany during the war. She did it all. She did everything. I wanted her to be remembered.
The play is for audiences 12+. What do you hope young people will take away?
A lot of teenagers have gone through what I've been through. I believe stories were formed to teach people lessons so they wouldn't repeat hurting themselves and thinking they don't matter. If I could get a message out there that there is one person you truly have to believe in, and that's you — that would be equal to the movie star mum and dad thing.