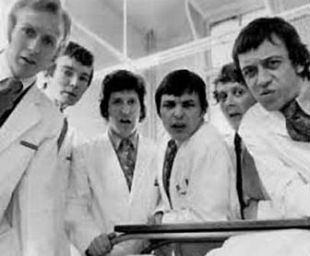 Exclusive
Doctor at Large and more.
Harold
After recovering at least slightly from serious illness, Australia's if not the world's greatest authority on old time radio, Harold Ellison brings a collection of the mysterious and the macabre.
To break the line of brow-furrowing mysteries with great British comedy there is an episode of the extraordinary Doctor at Large, so there is information, mystery and humour.
'Making History' We'll kick off this week with the show 'Making History' which made weekly travels back in time to discover the truth behind historic mysteries, intrigues and curiosities.
Listeners interested in history, predominantly British and European history, would write to the show, care of the BBC, inquiring about some historical matter and asking for further information. Top experts on that particular subject were contacted by the BBC, so the answers given were always accurate, fascinating to listen to and presented in a most professional manner.
'Ripley's Believe It Or Not' In many respects this show had a great deal of similarities to the BBC's 'Making History' as it was also dependent upon listeners writing in with their questions. Probably mainly due to the fact that Ripley's show was quite a bit older than 'Making History' but it is certainly not as polished as it's British predecessor and the questions were of more general topics and not solely history. Even the production values of sound effects and miscellaneous music didn't match the BBC's version. But the facts were there and for many years, on radio, in newspapers and in book form, the public delighted over Mr. Ripley's work. Ripley's still publishes an Annual Update, available from better booksellers.
'Return To Paper Plates' If the title of this show reminds you of the name of a best-selling book as well as a major motion picture, 'Return To Peyton Place,' then don't be surprised as that's what the show's producers had in mind. While the book and film versions followed on from the original 'Peyton Place', this radio show had no similarities what-so-ever to the original work and was strictly done for laughs, and there were many, many, many of them.
'Doctor At Large' And as listeners to 'From The Vault' will most assuredly know by now, in the opinion of the program's host, Harold Ellison, there surely is (and was) no comedy shows comparable to that created by the British as far as being full of fun and funny to boot. Those of you who recall the very funny gang in the show 'Doctor In The House,' will be thrilled when you hear the spin-off show called 'Doctor at Large.' And just wait until you hear the hilarious episode "Sparrow of Harley Street."
'Macabre' Once we've boosted your ego and mood with medicinal comedy and fabulous facts, we'll take the chance of undoing all the good we did by playing for you a very creepy show called 'Macabre,' of which we'll be hearing the extremely spooky episode called, "Midnight Horseman.' Here's a warning…if you see an eerie-
looking horseman in the corner of a fine painting that you may be considering procuring …DON'T BUY IT.
To hear, click here.