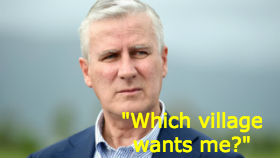 22.12.19.
ABC 21/12/19: Prime Minister Scott Morrison has touched down in Sydney after cutting short his Hawaiian holiday. He is expected to meet with fire chiefs on Sunday morning at NSWRFS GQ. The PM's return followed days of criticism over his decision to take a family holiday during the bushfire crisis. What is yet to be clarified and should be ASAP is if Morrison's acting PM McCormack is announcing new climate policy? Because earlier on Saturday acting PM McCormack conceded that the bushfire crisis has increased community concerns about global warming and says he "absolutely" accepts more action is needed to address climate change. Did he now?
Mr McCormack was asked if he accepted that community sentiment and fear of climate change had increased as a result of the unprecedented bushfires and if further action should be taken. "Yeah I do, absolutely — yeah I do agree entirely," McCormack said. It probably doesn't matter what McCormack says or does because as reported in
The Daily Telegraph
19/12/19:
Two-thirds of Australians don't know who Michael McCormack is, which is a bit of a worry because he's running the country—from Wagga Wagga.
The following are earlier excerpts with dates that indicate McCormack's poor 'dangling in the breeze' performance. Direct from the mouth of a fool with a thought process flow akin to that of molasses on a cold winter morning comes McCormack's gaff and is nonetheless a waffle which ignores government policy—which, in itself is wishy-washy! Add the McCormack factor headache to the drought relief to farmers debacle that now rages in the bush and ScoMo has a plate-full and idiots within he does not need!
11/11/2019. Nick Baker, SBS
A northern NSW mayor whose home was severely damaged by a bushfire that killed two people has slammed Deputy Prime Minister Michael McCormack for his "insulting" climate change comments. On Monday, Mr McCormack launched an attack against the "disgraceful, disgusting" behaviour of people who linked climate change to the bushfires in NSW and Queensland. "We've had fires in Australia since time began, and what people need now is sympathy, understanding, help and shelter … They don't need the ravings of some pure, enlightened and woke capital city greenies at this time," he told ABC.
The Guardian: Sat 21 Dec 2019 16.32 AEDT
At a press conference in Wagga Wagga on Saturday, the Nationals leader agreed the fires had impacted community sentiment on the climate emergency. Pressed on whether he agreed that "further action" was needed to tackle the climate crisis, he said: "I do, absolutely, I do agree entirely." Asked what more could be done, McCormack declined to be drawn further.