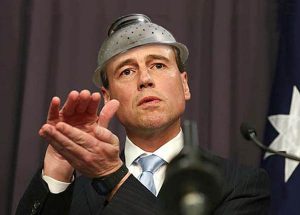 Exclusive
Hunt "fully supports" CSIRO
Bret Harte
Canberra, Monday. Greg Hunt, Minister for the Environment has called a media conference to defend spending $30m to have the CSIRO investigate Climate Change even though the head of the CSIRO has earlier said that there was nothing to investigate any more.
"It is true," said the Minister, "But science is always full of surprises which cause one to think again. For example the CSIRO has recently briefed me on a new and totally unexpected psychological disorder they have discovered – Lunar-Motivated Homicidal Impulse Syndrome.
"As a result of that briefing I have authorised another thirty million dollars to the CSIRO to see if this scientific breakthrough of the CSIRO is amenable to treatment.
Lunar-Motivated Homicidal Impulse Syndrome occurs when a person is ordered by the moon to kill the people around him. It is characterized by regular communication with the moon, persistent homicidal urges, and violent behavior stemming from efforts to appease the moon.
It shares some characteristics with the Placating Murderous Religions Syndrome.
"I fully support the CSIRO and they have convinced me that a person with this condition shows no sign of delusion or hallucination and that he is in fact receiving regular instructions from the moon to commit murder."
Dr Josef Mengele appearing on the platform with Mr. Hunt added that the man's affliction would not be subcategorized as a schizophrenic or psychotic disorder, as the voice he hears urging him to bludgeon others to death in fits of manic violence emanates from the moon itself and not from within his own mind.
"Because the man's mental state did not derive from any abnormal neurochemistry, ordinary psychiatric remedies like frontal lobotomies and shock treatment and counselling and having a break on the Gold Coast will not work. The grant money will focus on what appears to be a chip implanted in his brain that is receiving signals from the moon.
"We can block the signals by ordinary radio frequency jamming, " he said, "and we can construct a Faraday cage for mounting over his head – similar to a tinfoil hat – but the moment he takes it off the signals begin again."
"So you can see, " said Mr. Hunt, "science is never settled and this and other examples has persuaded me to look closely at scrapping our research into climate change and at other breakthroughs at the CSIRO."
When asked about other breakthroughs Mr. Hunt declined to mention any as it would take the spotlight away from the CSIRO's announcement of the newly discovered psychological affliction.
However he announced that the next budget will include $100 million to answer important scientific/social questions such as;
Is the Pope mad?
What IS that thing that goes bump in the night?
Why do so many people feel they want to kick Turnbull in the cods when they see him?
How long do we have before life in Australia is extinct because of Climate Change?
"Let's face it," Mr Hunt ended, "the CSIRO has answered nearly every industrial and agricultural serious question; it is time to focus on the questions that really matter. And no, I didn't restore some climate funding just to smooge up to Mr. Di Natale. I resent that."