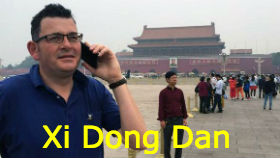 16.09.20.  
Scenario: Dear Premier Andrews, the federal committee is absolutely thrilled to bits in inviting you to our gathering so you tell us in your own words all about your BRI deal with communist China. You might also explain why you ignored the advice of all the Australian intelligence agencies that warned against such treasonous behaviour. We eagerly await you reply—Yours, Liberal Senator Eric Abetz. Reply: Get stuffed! Yours, Dan the China man!
Victorian Labor Premier Daniel Andrews will be asked to front a ­federal committee to answer questions about his decision to sign on to China's controversial Belt and Road Initiative. The Senate's Foreign Affairs and Defence Committee has written to all premiers and chief ministers seeking submissions on Scott Morrison's new Foreign ­Relations Bill, which would allow the commonwealth to overturn agreements struck with foreign powers by states and territories.
Source: Ben Packham, News Corp
Victorian Premier Daniel Andrews asked to explain China deal
The committee chair, Liberal Senator Eric Abetz, said it was hoped that Mr Andrews — who recently reiterated his support for Victoria's participation in the BRI — would agree to appear before the Senate's inquiry into the bill.
"Given that the Premier has doubled down on his support for the BRI, it would be of interest to the committee if he were to front the committee and argue his case," Senator Abetz said.
"Of course, we would never subpoena or force anybody from another parliament, or indeed ­another house, to appear before the committee. What we do is we invite them."
The Foreign Relations Bill would use the Constitution's external affairs powers to force the cancellation of agreements struck by the states and territories — as well as by universities — with foreign governments.
Victoria's BRI framework, which deepens co-operation with China on infrastructure, innovation and trade development, is expected to be one of the first major agreements to face the axe under the Foreign Relations Bill.
Other agreements facing the chop could include a 2011 investment memorandum of understanding between Western Australia and China's National Development and Reform Commission, and a 2013 MOU between NSW and Beijing covering trade, economy, culture, education, science, technology, tourism and sport.
Local government "sister city" agreements could also be cancelled, along with Confucius ­Institute agreements involving Australian universities.
The Prime Minister said the federal government was best placed to determine whether such agreements served the national interest.
"It is vital that when it comes to Australia's dealings with the rest of the world, we speak with one voice and work to one plan," Mr Morrison said.
But Mr Andrews called on Mr Morrison to provide a list of new foreign markets with "just as much demand" as China and defended his deal with Beijing, saying Victoria relied heavily on international students due to its lack of natural resources.
Chinese President Xi Jinping's BRI program is used as a vehicle by the Chinese Communist Party to expand Beijing's soft power reach in the region. BRI deals have raised alarm bells in intelligence and security agencies amid growing levels of Chinese espionage and coercive influence.