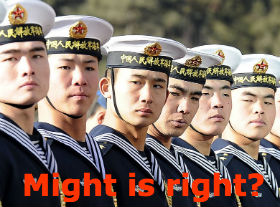 15.04.19.
Australia must "China proof" itself against punishment dealt by Beijing. That has been the cry from Morning mail for some time. When we wrote that about China when it held up Australian coal shipments our detractors said smugly that China needs Australia's superior thermal coal. We also warned that Indonesia was poised to supply China with coal and so it all has sadly come to pass. They have found an excuse to do it via a, kcal/kg NAR—a calorific specification. Australia's coal industry response should be interesting. Our barley exports to China have become an issue also.
Chinese state-owned power stations are specifically requesting coal from Indonesia, rather than Australia, as they put out tenders for new coal supplies, according to S&P Global Platts' Asian thermal coal expert, Michael Cooper.
"The state-owned power stations are not buying Australian thermal coal and the traders say there is a political dimension to it," Mr Cooper said in an interview with The Australian over the weekend. "They are saying 'this is a political thing and the state-owned enterprises (SOEs) are following a government direction'.
Source: News Corp
Chinese prefer Indonesian coal
"The tenders coming out from the Chinese power stations at the moment are all specifying the grade of coal that is particular to Indonesia.
"It is for coal below 5000 kcal/kg NAR while the coal from Australia is 5500 kcal/kg NAR."
Mr Cooper said Chinese buyers were also looking at cheap coal from Colombia to help meet the shortfall of coal from Australia, despite the fact that it took 45 to 60 days to travel from the South American country around the Cape of Good Hope, compared to only 20 days from Australia.
Mr Cooper said Australian coal headed for China was being held up by as much as 45 days as a result of stricter testing requirements suddenly imposed by Chinese customs at the end of January, whereas in the past customs clearance took a few days.
"It just seemed to happen overnight," he said.
"No one was quite sure why, or what the problem was or who to talk to.
"No one seems to be able to work out what the solution is and how to get it sorted out."
But Mr Cooper said the thermal coal industry was also watching to see if restrictions on the import of Australian coal into China would be lifted at the end of May.
"When you ask people how long this will go on, no one knows," he said.
"Some are saying it could be until the end of May, but there is no guarantee.
"There is no official edict from the government in China that it (the requirement for stricter testing of Australian coal) will be lifted at the end of May.
"We are just sitting here and waiting."
A May deadline would give Chinese authorities a chance to assess the implications of the May 18 elections for China-Australia relations, if the restrictions are politically motivated.
The Chinese government is saying that Chinese customs is imposing strict testing procedures on coal imports for environmental purposes, but coal from Indonesia and Mongolia appears to be getting into China with no serious delays. Many in the coal industry believe the stricter processing of Australian coal is politically motivated, with China unhappy at Australia's decision to ban Huawei from supplying equipment for the next-generation 5G network and comments by Australian political leaders, but China insists the checks are motivated by environmental concerns.
"Everyone is sitting tight and hoping that by the end of May things will work themselves out and everything will go back to normal," Mr Cooper said.
"You might see a situation on June 1 where someone waves a flag and the ships carrying ­Australian coal are able to get into port."
Mr Cooper said some Chinese buyers were starting to book coal from Australia for delivery in late May and June.
He said people had asked them "if they knew something," but he said they were just "taking a risk they will be able to get their cargoes into China".
Mr Cooper said estimates were that there were some four million tonnes of thermal coal from Australia set to come into China in late May and June if the stricter customs processing requirements were lifted.
He said if the requirements were lifted, it could lead to a backlog of coal from Australia coming into the China market, which could create problems or generate new import restrictions.
China is informally limiting total coal imports this year to about 281 million tonnes — the same amount as last year — as a result of an increase in domestic coal production. The figure includes thermal coal and coking coal.
Mr Cooper said he believed there was an informal cap of 180 million tonnes on imports of thermal coal into China this year.
Australia sold 89 million ­tonnes of coal to China last year, including about 40 million tonnes of thermal coal.
The informal import caps could mean that even if Chinese customs authorities did allow for faster processing of Australian coal at the ports from the end of May, total imports for the year would still be down on previous years.
Chinese authorities began restricting imports of coal last November after a flood of imports.
They lifted the restrictions in January, prompting another flood of imports.
Stricter testing requirements were imposed from late January, focused mainly on Australian coal.
Last week, analysts warned over short-term earnings at thermal coal exporters after a slump in demand sent prices to the lowest levels in more than a year.
Prices for high-quality thermal coal from Australian producers fell below $US75 a tonne over the past week to levels not seen since 2016, according to RBC Capital Markets Tyler Broda.
In a note to clients last week, Mr Broda said the "dramatic" collapse of thermal coal prices over the past three months had been created by a warm winter in ­Europe and an oversupply of LNG from Australian producers.
"We would expect that coal ­prices will become far more volatile in this new environment, as some of the LNG price volatility spills over into coal markets."