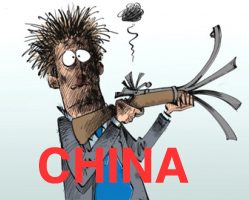 23.02.21.  
As it turns out, the Chinese Bully-boy economic punishment set upon Australia has been a wake-up call to coal exporters who appear to have got out of their comfortable offices and found alternative markets—amazing what you can do when you have to. Figures show a large boost in coal earnings that will no doubt miff the nasty little bastards in Beijing and send the message that Australia will not tolerate such punishment from what is now a rogue state and a misfit in the family of democracy ruled countries.
Australian thermal coal exports have held up in defiance of China's import restrictions, with surging global prices set to deliver an additional $6bn in annual export earnings and pump billions into the budget bottom line. Demand for Australian thermal and metallurgical coal from established and emerging markets — including Japan, Taiwan, Korea, Vietnam and India — remained strong in the back-end of last year as sales to China plummeted following Beijing's ban on local coalminers.
Source: Geoff Chambers and Patrick Commins, News Corp
Coal boom stokes $2bn budget boost
More than 138.5 million tonnes of coal, valued at $16bn, was shipped out from NSW to 37 countries last year, as the price of thermal coal doubled to around $US80 to $US90 a tonne.
With China facing higher prices, supply shortages and a cold winter, pressure is building on the communist regime to relax its ban on Australian coal, which was formalised in mid-December.
Mining sources told The Australian that while Beijing was likely to keep its restrictions in place for up to two years, there was ­potential for China to import Australian coal via third parties to plug its supply chain gaps.
Recent moves by Beijing to increase its coal import quotas have been directly linked to its ban on Australian coal, as China accesses poorer quality coal and steeper premiums for the resource from other nations, including Indonesia, Russia, South Africa, Canada and the US.
The federal mid-year economic and fiscal outlook, released in December, assumed thermal coal prices would stay at $US61 a tonne, $10 higher than forecast in the October budget. A tonne recently fetched about $US90 out of the Port of Newcastle, with CBA predicting the thermal coal price would ease a little to around $US75 by the end of the year.
Deloitte Access Economics partner Chris Richardson said the extra revenue from higher than anticipated coal prices, if they stabilised at current levels, would be worth an additional $6bn in ­annual export earnings.
That would equate to roughly an additional $2bn boost to the government's bottom line — not exactly transformative in the ­context of the roughly $200bn budget deficit forecast for 2020-21, but nonetheless welcome, Mr Richardson said.
New data from the NSW Minerals Council shows that in 2019-20, the state's 27 biggest ­miners injected $14.9bn into the NSW economy, an rise of $1.2bn on the previous financial year.
With NSW miners supporting almost 27,500 jobs, the debate over the future of coal will feature prominently ahead of the next election as the Liberal and National parties press hard for Labor seats in the Hunter and Central Coast regions, and Labor leader Anthony Albanese faces internal pressure to offer stronger support for the key export sector.
NSW Minerals Council chief executive Stephen Galilee said ­despite the COVID-19 pandemic economic shock, growth in the ­resources sector had continued supporting new jobs, pay increases and mining supplier businesses.
"These results demonstrate the importance of mining for thousands of small and medium businesses in regional NSW and across Sydney that supply our mines," Mr Galilee said.
"While some don't realise the strong connection Sydney has with mining, many Sydney suburbs are home to hundreds of local businesses that are part of this mining supply chain, particularly in western Sydney."
The NSW Minerals Council annual member company expenditure survey found the 27 participating mining companies directly spent $10.3bn on the purchase of goods and services from almost 8000 local businesses, an increase of 1000 businesses. They spent $94m in community contributions and payments to local governments and $1.8bn in taxes and royalties to the state government.
A resources industry source said the freezing winter conditions in the northern hemisphere had tightened the thermal coal market globally, with China also "hoovering up" everything it could to make steel and limiting its exports of coke so it could be used to build pipelines and railways under President Xi Jinping's infrastructure stimulus package.
Quarry Mining managing director Kari Armitage, whose company provides drilling equipment for miners, said without mines and their support for manufacturing there would be a "huge hole in our economy and skills base".
"By shopping local for high-quality suppliers, the mining industry fosters the longevity and sustainability of an entire supply chain, which in turn provides vast and exciting employment opportunities keeping our skills base high," Ms Armitage said.
ABS December trade data showed increases in both thermal and metallurgical coal. Thermal coal was up $130m (25 per cent) and coking coal exports increased by $108m (54 per cent).
In the place of China, India and South East Asia nations have emerged as key buyers.