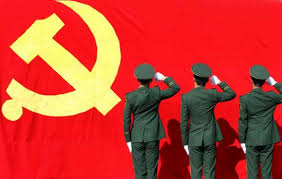 13.01.21.  
Two years ago Morning Mail posted a story about China that began with:  "The word 'China' has become synonymous with haemorrhoids—a real pain in the arse! Almost every day is another story about China pushing its expansionist agenda into Australia. At least PM Morrison is starting to move against such moves before he has another loaded diaper to clean up left there by his predecessor Turnbull. MM has been banging the drum about CK Asset Holdings Limited's grab on our resources for ages. On Christmas eve, just weeks ago, when everyone was busy trying to figure a Christmas under the chnging rules of COVID-19, this was posted from News Corp:
A giant Beijing sovereign wealth fund has emerged as an investor in major Australian LNG infrastructure, with China Investment Corporation among backers of a deal to buy a stake in Shell's Queensland gas infrastructure for $US2.5bn ($3.3bn). The Australian has confirmed the $1.3 trillion China Investment Corporation is a minority investor in Global Infrastructure Partners' Australian fund, which grabbed a quarter stake in Shell's gas storage tanks and jetties that service the state's QCLNG export facilities in Gladstone.
Under various names China has been busy injecting its communist empire into Australia, brick by brick. "Probuild" a South African company china wanted to buy, built the Victorian police headquarters and is involved in construction of the new Melbourne base for CSL, one of Australia's most successful global firms, which is producing COVID-19 vaccines locally. Who knows what if any link exists with Dan Andrews?
*************************************************
Source: Patrick Commins, News Corp
Probuild: Chinese fury as key deal blocked
China has accused Australia of "weaponising the concept of ­national security'' after a $300 million bid by a Chinese state-owned company to buy a ­construction company was scuppered by Josh Frydenberg.
China State Construction ­Engineering Corporation pulled its nearly $300m bid for the ­Australian-based but South ­African-owned Probuild after the Treasurer indicated before Christmas that the acquisition would be turned down on national interest grounds.
The Australian understands the state-owned company's link to the Chinese military was the key reason behind the Treasurer's objections. News of the decision sparked an angry reaction from the Chinese embassy which said that "if the reports proved true, this is the latest case that Chinese investment is discriminately targeted".
"We are deeply concerned about the relevant reports on Probuild," the spokesperson said.
"Weaponising the concept of national security to block Chinese investment is detrimental to mutual trust as well as bilateral economic and trade relations. We urge the Australian government to provide a fair, open and non-discriminatory environment for all foreign investors including Chinese enterprises as promised."
A Chinese foreign ministry spokesman called the decision political.
The Australian government's move comes after months of simmering tensions with China, which reacted angrily after Scott Morrison called for an independent investigation into the source of the coronavirus outbreak in Wuhan. China has imposed trade restrictions on a series of Australian products including beef, barley, seafood, timber and wine.
In mid-December Australia referred China to the World Trade Organisation over its imposition of barley tariffs.
Probuild built the Victorian police headquarters and is involved in construction of the new Melbourne base for CSL, one of Australia's most successful global firms, which is producing COVID-19 vaccines locally.
Construction contractors are a particular focus of the Foreign Investment Review Board's attention as they can pass on sensitive information such as building blueprints and supply chains to foreign intelligence services. FIRB guidelines also note that foreign spy agencies can build surveillance equipment into premises to gather information on "sensitive tenants".
Probuild on Tuesday declined to comment but its South African owner, Wilson Bayly Holmes, said in a statement to the South African exchange that the rejection came "after significant time, investment and ongoing commitment from both WBHO and the potential acquirer in progressing the proposed transaction".
WBHO said "due diligence was completed and commercial terms of the proposed transaction were otherwise materially agreed between the parties".
Mr Frydenberg declined to comment on the Chinese embassy's claims, with a spokesman saying the government did not comment on the application of the foreign investment screening arrangements as they applied or could apply to particular cases.
Last year China issued a list of grievances with Australia which included recent foreign investment decisions including last April's rejection of China Mengniu Dairy Co's planned $600m purchase of Lion Dairy & Drinks.
Parliament in December passed a major overhaul of the Foreign Acquisitions and Takeovers Act of 1975 which was aimed at ensuring Australia's "foreign investment framework keeps pace with emerging risks and global developments".
Those reforms, which came into effect from January 1, included a new national security test for foreign investors who wish to acquire a direct interest in a "sensitive national security business" — regardless of the value of the investment.
The Chinese embassy listed this bill as one of its 14 grievances against Australia.
When asked about the threat of potential retaliation from China, Acting Prime Minister Michael McCormack said the government would "always do what's in the national interest".
Australian Strategic Policy Institute executive director Peter Jennings said rejecting CSCEC's takeover bid was the right call. "We are going to see more and more of these types of refusals," he said.
Mr Jennings said almost any large state-owned company would have links with the Chinese military.
He said there was a feeling that "enough was enough" when it came to overdependence on an increasingly hostile China, which had shown it was prepared to use this economic dependence for political coercion.
FIRB expert Rebecca Mendelsohn, from the ANU Crawford School of Public Policy, said while nobody outside government would be privy to the exact details underpinning the decision, rejecting the application appeared consistent with the national security test.She said the growing importance of national security considerations in foreign investment review decisions was not all about our largest trading partner. That said, "we need to be realistic that the major factor is China", she added.
China's foreign ministry spokesman Zhao Lijian accused Australia of "misleading the public and blatantly intervening in China's Hong Kong affairs" after Foreign Minister Marise Payne joined Five Eyes partners Canada, the UK and US in condemning the largest crackdown yet under Hong Kong's controversial national security law.
Labor Treasury spokesman Jim Chalmers said the opposition had not been briefed on the reasons for the Probuild decision. He noted foreign investment was important for Australia but it must always be in the national interest.