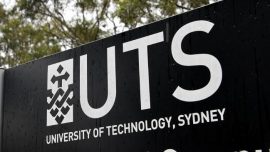 13.08.19.  
The very communist People's Republic of China is being watched by Western nations as never before, now that what has been patently obvious to many for years has become the flavour of the month—interference. This bungled attempt to obtain names and passport numbers from selected students at the University of Technology Sydney is just one more worry about China's aggressive bullying. Only a has-been dope like former foreign minister Bob Carr has railed against what he sees as growing "China panic" has kept his head in the sand. Perhaps through his Asian wife and his links within the Australia-China Relations Institute he might have a commercial interest at stake—but we din't know if he or his wife has.
Academic staff at University of Technology Sydney refused to hand over personal details, including their passport numbers, after China's Education Ministry demanded the information to continue a course for visiting students.
Source: Ben Packham, News Corp
Beijing's passport order to University of Technology Sydney staff
Science faculty associate dean for international partnerships ­Graham Richardson told 21 UTS academics they were required to disclose their passport numbers and dates of birth "as part of the ongoing review of this program" by the ministry.
"You may be concerned by the request for your passport number," he said in an email obtained by The Australian. "In China, all citizens have an identity card. As we don't have these in Australia the next best ­option for them is your current passport number."
The biotechnology course, ­delivered in partnership with China's Hebei National University, includes a one-year program for ­visiting Chinese students who ­receive a dual degree from their own institution and UTS.
Mr Richardson said in the March 19 email that two HNU staff members would undertake a "shadowing program" during lectures, practical classes and tutorials delivered to the Chinese students in Australia.
The request for passport numbers and dates of birth prompted a backlash from UTS staff, who ­refused to provide the information. The university later relented, saying it was sympathetic to the views raised. It said passport numbers would not be required, but staff would need to provide their year and month of birth "to maintain ­accreditation of the joint program".
One academic questioned why his name was on the list. "If my participation is, in fact, ­required, I am happy to provide my name and the highest qualification. The rest is an overreach."
Another said: "Dear Graham. Yes, I am concerned about my personal information going to China. I think I will pass on this request. The Australian passport office in Sydney advised me not to give my passport number and birth date to any Chinese organisation, unless ­applying for a visa."
A UTS spokesman told The Australian that the request for passport numbers and dates of birth had been an HNU requirement, but the Australian government advised such information was only required for travel. He said the Chinese university "accepted without question" the UTS response.
He said the HNU staff participating in the UTS program were qualified academics who had PhDs in biotechnology fields and had published papers in related areas.
UTS hosts the Australia-China Relations Institute, which was run by former foreign minister Bob Carr, who has railed against what he sees as growing "China panic".
A recent paper by the institute acting director James Laurenceson found China would soon eclipse the US as Australia's most important ­research partner.
But there is growing unease within the government over collaboration with Chinese universities, amid concerns over intellectual property theft and the potential weaponsiation of dual-use technology developed through academic partnerships.
The Australian revealed last month that a University of NSW computer science professor co-wrote researc­h with Chinese generals linked to Beijing's nuclear weapons program, and supervised at least nine PhD students from China's top military academy.
The Australian also revealed ­recently that a CSIRO chief ­research scientist was appointed to a unit of ­Beijing's United Front Work ­Department, which runs overseas influence operations.
The Morrison government is examining whether universities should be have to declare their ­relationships with Chinese institutions under foreign influence transparency laws, amid growing focus on academic partnerships, and ­Chinese-sponsored Confucius Institutes.
Vice-chancellors were briefed last week by Education Minister Dan Tehan and intelligence officers from the Australian Signals Directorate on the need to work cooperatively with the government on foreign influence and cyber threats.
The sector has agreed to work with the government to develop new guidelines on the issues.