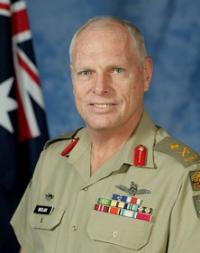 24.07.21.  Jim Molan has warned the Australian Defence Force would be defeated within days in the event of a Chinese attack, even with the benefit of $270bn in new military hardware to be delivered over the next decade. The Liberal senator and retired army major-general, who headed the multinational force in Iraq, has urged the Morrison government to go back to the drawing board to rethink the nation's defence posture. As Australian and US troops sharpened their interoperability at Exercise Talisman Sabre in Queensland, Senator Molan said the belief the US would always come to Australia's aid had left the nation vulnerable.
Source: Ben Packham, News Corp
Jim Molan friendly fire over China military threat
He said the government – which only updated its strategic and force posture plans last year – was creating an ADF to fulfil the tasks of the past 75 years, not those that lay ahead.
"In relation to what is likely to come down the track, it lacks three things. It isn't nasty enough, it isn't big enough and it can't fight for long enough," Senator Molan said. "The ADF, even after the $270bn is put into, is unlikely to last even a few days in a high-end conflict with China."
He said military spending at just over 2 per cent of GDP "in all probability is not enough". His comments come as the government grapples with the prospect of a major regional conflict within the next decade, without $135bn of planned submarines and frigates that will only begin to enter service in the mid-2030s.
Senator Molan said the Coalition since 2013 had been the best government Australia had seen in relation to national security and defence, but changing strategic circumstances demanded a fresh approach. He said the ANZUS Alliance was Australia's first line of defence, but US forces were spread globally while China only had to worry about the South and East China Seas.
"An alliance is not an excuse for not taking responsibility for national defence," he said, noting Australia's faith in its British allies left it vulnerable in WWII.
Senator Molan reiterated his call for a wide-ranging national security strategy to prepare for the threats Australians would face in the decades to come.
The proposal, which the government has not embraced, would focus on preparing both Defence and civilian sectors, including ports, shipping, supply chains, pharmaceuticals, fuel and essential infrastructure, for a range of realistic contingencies.
He warned "grey zone" activity including cyber attacks and trade sanctions were key threats, along with biological attacks.
Amid growing Chinese militarisation and belligerence towards the West, Defence Minister Peter Dutton recently warned the prospect of a war with China over Taiwan could not be discounted.
The comment followed the 2020 Defence Strategic Update, which said the nation could no longer assume a 10-year warning time before a major conventional attack against Australia.
The accompanying 2020 Force Structure Plan set out a $270bn investment plan to 2030, to purchase new weapons and equipment across all services, including billions of dollars worth of advanced guided missiles.
Mr Dutton said the plan would make "those who seek to threaten our national interests … think twice before doing so".
"An important element of this is achieved through creating capabilities to hold a potential adversary's forces and infrastructure at risk from a greater distance," he told the Australian Strategic Policy Institute war conference.
Senator Molan said the plan would not make any marked difference to the overall size of the ADF, with the addition of just 800 uniformed personnel by 2024.