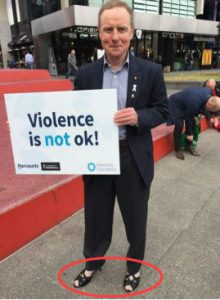 Can this jerk sink lower?
Queen of Australia?
How can anyone accept the "honour" of Australian of the Year from now on? Anyone should be ashamed to be seen in such company as the awardees we have now.
The Nobel Peace Prize to a terrorist like Arafat, to an ignorant boor like Obama, I guess we had to get into the act and out-do them by having this mincing grinner the Australian of the Year.
We have a reputation, rightly or wrongly, of being tough men. Die-hards in sport and war. In what contempt do armies of the world hold Australia when they behold this posturing prat and know he was once head of Australia's Armed Forces? Do they take into strategic consideration that the upper ranks of our forces were probably chosen by him?

Comments in Andrew Bolt's column, where this story emerged, are interesting.
Rick said; David Morrison's biggest achievement is to show just how farcical Australian of the Year has become.
Peter asked As australian of the year exactly what or who is he a role model for?
Andrew said; Sorry. But as an ex-Soldier, surely the real ask here, is how does a soldier say 'Violence' is not OK? David, violence is our stock in trade. It is, after peace fails, our KPI. It is like Police saying 'Arrest is Not An Option' or the firies saying 'Extinguish is a Bad Word'. Sure it is in the context of violences against women…..but does nobody get the irony?
Clive replied to Andrew; If leftists didn't have hypocrisy they'd have nothing much to offer.
Michael said Seeing a former head of army holding a 'violence is not ok' sign is ironic to say the least.
Jim said; Is he wearing a thong, or an old-fashioned pair of bloomers, under his pants?
Colonel said; Everything that the left feminist dominated and infected media, activists and their allies are saying about domestic violence is a manipulated, duplicitous, willfully incompetent and biased monstrous lie.
Peter said; Give him a break. He's simply modelling the Green's climate change compatible armed forces combat boots.
Karam asked Violence is ok if you are in the Army(David Morrison was); how else will you win the war?
Vincent said to Karam; To his credit he never fired a shot in anger.
Imacentrist said; The legal definition of DV includes verbal abuse, (your wife shouting at you) emotional abuse or withdrawal of affection, (your wife cold shouldering you or having a headache) financial abuse, (86% of wives make ALL the financial decisions &/or your wife doing some retail therapy, bashing the credit card) psychological torture. (your wife nagging you)
When you include ALL types of DV together, well over 90% is female on male.
After decades of this feminist encouraged intensive psychological torture.
They wonder why some men going through mid life crisis have a nervous breakdown & lash out?
Michael responded; 'They wonder why some men going through mid life crisis have a nervous breakdown & lash out on high heels and a pretty frock.'
Thanks, Imacentrist, the statement now fits David Morrison.
Maureen said; So why didn't he go the full frock option? BTW I do not feel much confidence in a soldier, charged with protecting our country whose main concern is gender politics
Shannon mused; Personally, I think it is perfectly acceptable to hit a man wearing high heels and a suit.
Bernard replied to Shannon; …with a handbag.