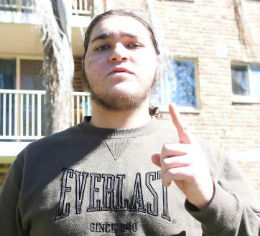 A case for government sanctioned sterilisation?
The criminally insane creature Raban Alou and his parents, in the minds of many, surely make a case for sterilisation to avoid the proliferation of evil creatures in a decent society. Also at issue is the extent and depth of Islamic brainwashing that totally co-opts feeble minds to murder of the innocent—a matter more difficult to exorcise from the indoctrinated.
Australia's longest terrorism jail sentence has been handed to the man who gave teenage terrorist Farhad Mohammad the revolver he used to murder police accountant Curtis Cheng in an Islamic State-inspired attack in 2015. An unrepentant Raban Alou was yesterday sentenced to an unprecedented 44 years in jail at NSW's Goulburn SuperMax prison, becoming the first person in Australia to be jailed for the charge of aiding, abetting, counselling or procuring the commission of a terrorist act, an offence carrying a maximum life penalty.
Source: News Corp
'It's just beginning,' terrorist Raban Alou warns after getting 44-year term
Alou gave a one-fingered ISIS salute and declared it was "just the beginning for the enemies of Islam" as he was led away.
NSW Supreme Court judge Peter Johnson said the prospects of Raban Alou being rehabilitated were "grim" and it was "quite clear the offender remains dangerous to the general community".
Alou's lack of contrition was "demonstrated most starkly" in a prison phone call last year when he said "I do not regret one single thing that I did on that day" and "I'm never ever going to say I'm sorry for what I did".
"The wickedness and cowardice of the offender and Farhad Mohammad may be contrasted with the strength, courage, ­humanity, decency and dignity of the Cheng family in their ­response to this random act of homicidal violence," the judge said. He warned Alou an application could be made for a ­continuing detention order at the end of his sentence.
Alou, 20, sourced the .38 calibre Smith & Wesson revolver Mohammad used to fatally shoot Cheng as he left NSW police headquarters in Parramatta on October 2, 2015. Mohammad was killed moments later in a gunfight with police.
Alou was arrested on October 7, 2015, and pleaded guilty.
"In murder cases where the offender pleads guilty, it can sometimes occur that the offender will express regret to the victim's family for what he or she has done," the judge said. "That is not the present case. The ­offender's reaction to the understandable distress of the Cheng family has been to offer no words of comfort or apology. The ­offender's response is devoid of basic humanity."
Justice Johnson said Alou played a lead role in the murder, which could not have happened as it did without his involvement.
A statement of facts tendered in court revealed that at about 4pm on the day of the murder, Alou met Mohammad at Parramatta Mosque and gave him the gun, which, the court found, he knew would be used to murder someone.
The judge said despite Alou then being just 18, he was "prepared to exploit a young person as the perpetrator of a terrorist act" knowing it was planned to kill someone in the street.
Mr Cheng's family was in court as Alou was led away. "We really hope it sets a strong precedent about how actions like this and hate and intolerance is really not respected or condoned in Australia," said the victim's son Alpha Cheng. "It sends a clear, deterrence for anyone contemplating such disgusting acts."
Alou will be eligible for parole in October 2048.