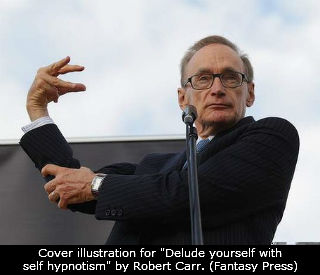 You put your left foot in…
Exclusive
Bret Harte
Yesterday, the print copy of the Herald displayed a mega size flattering photo of Bob Carr to accompany a story by Tom Allard and Jonathon Swan.
The headline was a relatively 'newsy' one and was similar in all the papers in the Fairfax stable. In WA it was, 'Julia Gillard and the 'falafel faction'; Canberra, 'Carr takes aim at Gillard, Rudd'; and The Age, 'Ingrained detestation of Rudd'
By 9.00 Allard and Swan's joint story had been pulled in the on-line edition and replaced with one by Swan only. In exactly the same words.
But though the story was the same, the headline was gone!

In its place was a new headline, 'They're not laughing with you, Bob …'
And the new headline had nothing to do with the story. That headline was put in to make it appear that the Herald had not made a very bad judgment call.
That judgment call was that the Herald had misread its readership. It assumed that an article which touched lightly on Carr's smirking ego, but praised him otherwise, would be fully endorsed by its readership. There would be sackloads of letters and emails about how much Bob the Builder was missed, and how they longed for his return.
185 comments later the Herald realised that their assumption that green/lgbt/left readers were in the majority was probably wrong. The comments had made that assumption very doubtful.
Once the tide became clear that the consensus was Carr was some sort of egotistical drongo, a number of diversionary emails appeared about boat people, and what an idiot Abbott is, but largely the thrust was as in the selection below.
By 11.00 the Fairfax headline was changed a second time, this time to 'Tosser? Prima donna? Bigot?'
And not just the headline – the story, it was now a straight out puff piece. Why, Bob gushed breathlessly, all those egotistical remarks in his diary were self-parody, he was only joking, just a few lines to get people to read his serious stuff, he was amused at the reaction, gosh – he had even predicted the reaction.
Good old Bob, making a fool of himself to sell his book – what a man. Pretending to be upset because the subtitles in a German opera were not in every language on earth. Pretending to really think that business class was akin to being in a slave ship being voided on by the top bunkmate.
Too late, too late, too late to put Bob's trousers back on; the readers had seen his backside.
By 4.00pm the Herald had enough. Time for a complete re-write of the whole thing. It dropped the stories and rushed in Stephanie Wood to do a gentle mockery of Carr. Wood can write – her essay on her late grandfather was a model – but nothing could save Carr now, not even her. Readers' comments were even worse than before and very personal.
It was not Granny's best day.
On the other hand the Telegraph's headline was 'Diaries of a first-class tosser' in big bold lettering. The comments were mostly in line with the Herald's, indicating that the Tele had a pretty fair fix on their readership – not left, not right – just readers who can spot self-delusion when they see it.
Extracts from the Herald's readers:-
Carr is an egomaniac but his book will definitely make for interesting reading. This is embarrassing for the party but is unlikely to bring any long term damage given Rudd, Gillard and Carr are all gone. Regardless, what a dysfunctional mob Labor were in Government.

Carr is not the sort of person you'd want to have in your corner in a fight, is he? He's nothing but a self serving traitor. I wish Rudd would write a book…now, he'd have some grisly tales to tell.

I don't ever write Labor off but they are in perilous territory and don't seem to be doing much about it. Bob Carr can carry on about the influence of the Melbourne Jewish establishment all he likes; it's Labor's ridiculous flirtations with the Green-Left that has eroded their confidence and authority. If Labor abandon the centre chasing the approval of inner-city hipsters, journalists, activists and academics then they WILL be finished. Step One in Labor's rehabilitation: they vote to repeal the utterly pointless carbon tax that they so arrogantly imposed on the working people they claim to represent.

Flanders – you're quite right, the only person who looks like a goose here is Carr. New South Welshman must be recoiling at the thought of having voted this bloke in as Premier a few times.

Carr obviously thought he was born with a silver spoon in his mouth with all those demands for upgrades, sledging overweight Americans, and of course the humiliation of not being presented with English sub titles to a German opera. Vale Bob – presumably this is the last we hear from you.

No wonder I couldn't stand the man. What a diva!

I have never liked him, however I never knew the reason for my dislike. I simply felt distrust. He has got the John Laws big voice.

Carr's version of leadership on the issue of asylum seekers was to ignore our international obligations and our responsibilities to human beings in need and just outdo the Liberals in bastardising these people for political advantage. That is leadership Carr style!!!!

I have always considered Carr a pompous vacuum with a voice. He is tending to confirm that through these excerpts – but it does give me a believable explanation for Gillard's extraordinarily inappropriate position on Palestine.

Why can't we get a healthy bunch of human beings in politics instead of a constant flow of egomaniacs?

No comment on the "leadership" style of Julia Gillard who appointed Carr?

@Christopher "Why can't we get a healthy bunch of human beings in politics instead of a constant flow of egomaniacs? is a really good question. And as much as we often hear politicians say that they went into politics to serve the community and the country, the truth is often somewhat less altruistic. Isn't there a saying by Henry Kissinger about power being the ultimate aphrodisiac?

Bob, you must realise that it is probably not such a wise move to make public these thoughts – they may reflect on you as much as they do for your targets.

Tactless, tacky and selfish in equal parts.