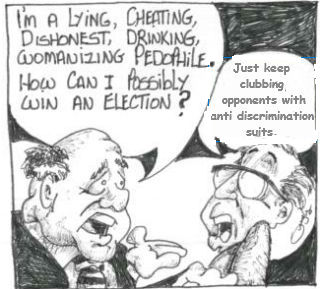 Exclusive
Hello Canada – how's homosexual marriage going for you?
Canadians have faced disciplinary action, the sack, and prosecution by government tribunals since same-sex marriage was legalised in 2005 and protected attribute status was granted to sexual orientation and gender identity in anti-discrimination laws.[1,2]
Since being made legal, same-sex marriage has been treated identically to traditional marriage in law and public life. Anyone who rejects the new orthodoxy must be acting on the basis of bigotry and hostility toward gays and lesbians.
Any reasoned explanation – for example, that conjugal marriage is best for children because it preserves their biological relationships with their mother, father, siblings, grandparents – is dismissed as a straightforward manifestation of hatred toward a minority sexual group.[3]
Such dissent is now deemed intolerable. Many of those who have persisted in voicing their dissent have been subjected to investigations by human-rights commissions and (in some cases) proceedings before human rights tribunals.
Civil marriage celebrants were the first to feel the hard edge of the new legal system. Several Canadian provinces refused to allow celebrants a right of conscience not to preside over same-sex weddings, and demanded their resignations.[4]
The Catholic Church's Knights of Columbus were fined for refusing to rent their facilities for post-wedding homosexual celebrations.[5]
Those who are poor, poorly educated, and without institutional affiliation have been particularly easy targets – anti-discrimination laws are not always applied evenly. Some have been ordered to pay fines, make apologies, and undertake never to speak publicly on such matters again.[6]
Targets have included:
Individuals writing letters to the editors of local newspapers;[7] Ministers of small congregations of Christians;[8] A Catholic bishop who faced two complaints – both eventually withdrawn – prompted by comments he made in a pastoral letter about marriage.[9]
To engage in public discussion about same-sex marriage is to court ruin. No matter the outcome it will cost money and time.
Although the Parliament of Canada did revoke the Canadian Human Rights Commission's statutory jurisdiction to pursue "hate speech", in reality similar legislation remains in place in several Canadian provinces.
Professional governing bodies – such as bar associations, teachers' colleges, and the like – have used statutory powers to discipline members for conduct unbecoming of the profession.[10]
Expressions of disagreement with the reasonableness of institutionalising same-sex marriage are understood by these bodies to be acts of illegal discrimination, which are matters for professional censure.
Teachers are particularly at risk for disciplinary action. Even if they only make public statements criticising same-sex marriage outside the classroom, they are still deemed to create a hostile environment for gay and lesbian students.[11]
Other workplaces and voluntary associations have adopted similar policies as a result of their having internalised this new orthodoxy that disagreement with same-sex marriage is illegal discrimination that must not be tolerated.[12]
Parental rights gone
Parental rights in public education since the legalisation of same-sex marriage have subtly but pervasively changed. Same-sex relationships must be treated like natural marriage. Same-sex marriage and parenting must be treated in the classroom the same as heterosexual marriage; and this permeates all areas of the curriculum. Curriculum reforms in jurisdictions such as British Columbia now prevent parents from exercising their long-held veto power over contentious educational practices.[13]
Courts have been unsympathetic to parental objections and parental attempts to remove their children from the public school system. Parents are forced to accept conflicting views from home and school over same-sex marriage, and sexual orientation and gender identity (SOGI).
Same-sex marriage/SOGI ideology has been put into the curriculum under the guise of anti-bullying programs.[14]
This has proved to be a gross violation of the rights of the family. It is nothing less than the deliberate indoctrination of children (over the objections of their parents) into a concept of marriage that is fundamentally hostile to what many parents understand to be in their children's best interests.
It teaches children that the underlying rationale of marriage is nothing other than the satisfaction of changeable adult desires for companionship.
Religious institutions have been particularly vulnerable, despite so-called protections. The grand bargain of the same-sex marriage lobby was that houses of worship were supposed to exempt from same-sex marriage law.[15]
This protection has proved to be very narrow. It only prevents clergy from being coerced into performing marriage ceremonies. It does not shield sermons or pastoral letters from the scrutiny of human-rights commissions. It leaves congregations vulnerable to legal challenges if they refuse to rent their auxiliary facilities to same-sex couples for their ceremony or reception, or to any other organisation that will use the facility to promote a view of sexuality at odds with their own.
Provincial and municipal governments can withhold benefits from religious congregations because of their marriage doctrine. For example, Bill 13, the same Ontario statute that compels Catholic schools to host "gay-straight alliance" clubs (and to use that particular name), also prohibits public schools from renting their facilities to organisations that will not agree to a code of conduct premised on the new orthodoxy.[16[ Given that many small Christian congregations must rent school auditoriums to conduct their worship services, they are vulnerable.
Media: Under the Canadian Radio, Television and Telecommunications Commission, any media airing content considered "discriminatory" can have its broadcasting licence revoked. Human-rights agencies can charge fines and restrict future programs/publications.[17]
Is this how they think of the children?
Children's rights compromised: When same-sex marriage was legalised, parenting was immediately redefined to erase the term "natural parent" and replace it across the board with gender-neutral "legal parent" in federal law. By legally erasing biological parenthood, the state ignores children's foremost right: their immutable, intrinsic yearning to know their biological parents.[18]
Wedding planners, rental hall and bed-and-breakfast owners, florists, photographers, and bakers have already seen their freedoms eroded, conscience rights ignored, and religious freedoms trampled. In fact anybody who owns a business may not legally permit his or her conscience to inform business practices or decisions if those decisions are not in line with the tribunals' decisions and the government's sexual orientation and gender identity anti-discrimination laws. This means that the state basically dictates whether and how citizens may express themselves.[19]
Freedom to assemble and speak publicly about man-woman marriage, family, and sexuality is now restricted.
If a person's beliefs, values, and political opinions are different from those of the state, they risk losing their professional licence, job, or business.
Canada's imposition of same-sex marriage, gender identity and sexual orientation laws in the cause of "sexual autonomy" has trampled freedom of speech, association and religion and the rights of parents to educate and raise their children as they choose.

IN a nutshell, if homosexual marriage is introduced here Australians can expect all that happened in Canada and worse. All schools will be forced to instruct children that homosexual practices are just as normal and just as healthy as traditional sex between a man and a woman.
More important they will be told it is against the law to say otherwise.
Bluntly – that is what it has come to. [1] Bradly Miller, "Same-sex marriage ten years on: lessons from Canada", The Public Discourse, November 5, 2012. Miller is an associate professor of law at the University of Western Ontario and a 2012-2013 Visiting Fellow in the James Madison Program in American Ideals and Institutions at Princeton University. [2] Dawn Stefanowicz, "A warning from Canada: same-sex marriage erodes fundamental rights", The Public Discourse, April 24, 2015. Dawn Stefanowicz was raised by a gay father and is now married with children. [3] See, for example, the comments of Justice LaForme in Halpern v. Canada (AG), 2002 CanLII 49633 (On SC), paras. 242-43. [4] See, for example, Saskatchewan: Marriage Commissioners Appointed Under the Marriage Act (Re), 2011 SKCA 3. [5] Smith and Chymyshyn v. Knights of Columbus and others, 2005 BCHRT 544.[The Knights of Columbus Order is the world's largest Catholic fraternal service organization providing charitable services. In 2014, the Order gave over US$173 million directly to charity, performed over 71.5 million man-hours of voluntary service and gave over 400,000 pints of blood in the US alone. So far as is known there is not one homosexual charity doing this or similar work anywhere.] [6] See the remedy ordered by the Alberta Human Rights tribunal (later overturned on judicial review) in Lund v. Boissoin, 2012 ABCA 300. [7] Kempling v. British Columbia College of Teachers, 2005 BCCA 327 (CanLII); [8] Lund v. Boissoin, 2012 ABCA 300. [9]Fred Henry, Bishop of Calgary, Alberta, "Bishop Henry calls for overhaul of human-rights commissions"; note also the experience of Fr. Alphonse de Valk, editor of Catholic Insight, who spent $20,000 defending a human rights complaint that was eventually dismissed. [10] For example, Kempling v. British Columbia College of Teachers, 2005 BCCA 327 (CanLII). [11] Ibid. [12] For example, the dismissal of Ontario sportscaster Damian Goddard by Rogers Sportsnet for tweeting his support of traditional marriage: "Broadcaster fired after controversial tweet files human rights complaint", National Post, June 23, 2011. [13]Glen Hansman, "Parents cannot 'opt out' of provincial curriculum: clarifying alternative delivery", BC Teachers' Federation Teacher Newsmagazine, vol. 19, no.2, October 2006. [14]See the legislative preamble to Ontario's Accepting Schools Act, S.O. 2012 C.5. See also Chamberlain v. Surrey School District No. 36, [2002] 4 S.C.R. 710. The same fault lines are visible in S.L. v. Commission scolaire des Chenes, [2012] 1 S.C.R. 235. [15] Civil Marriage Act, S.C. 2005 c. 33, ss. 3 – 3.1. [16] Accepting Schools Act, S.O. 2012 C.5. [17]Dawn Stefanowicz, op. cit. [18] Ibid. [19] Ibid.