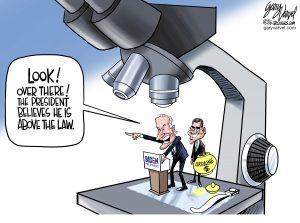 08.03.20
The
Australian's
own pet Never-Trumper, Cameron Stewart, looks like he had a run in with the management this week.
The real news from the US was that everyone bar two in the Biggest Losers list had tanked leaving only Joe Biden and Senator Sanders to stagger on for the Democrat's nomination for President.
But Cameron apparently wanted to do another story on Trump. No, the management said, stick to how Pocohontas Warren has folded her tepee and sent everyone a blast of incoherent feminist verbal buckshot on the way back to the reservation. Or how Mr Buttigieg had gone home to his husband Mr Buttigieg; but do it without upsetting the Alphabet Sex Lobby."
An absolutely unreliable source tells MM that Cameron pleaded he already had a story written about how X had emerged to the top of the pile and was the very one that Trump feared the most; all he had to do was type in Biden's name wherever X appeared and a few other inconsequential changes.
Our absolutely undependable source reports that the
Australian
editor said, "NO, write how JFK proclaimed that the torch has been passed to a new generation, then write, but now the torch has been handed back to the generation before the last two."
"Won't." said Cameron.
"OK," said the editor, "you can do two articles. But keep Trump out of one of them."
And so it was. Cameron lit a candle to St Greta Thunderbolt, let loose on Trump and shared his daytime dreams.
Campaign comeback of 'Sleepy Joe' awakens genuine fear in Trump Joe Biden's Lazarus-like revival after being dismissed as an also-ran in the Democratic presidential race just two weeks ago has turned heads across the US, not least in the White House
.
Even Donald Trump couldn't resist grudging admiration for the rags-to-riches tale of Biden's unlikely triumph in the Super Tuesday primaries, saying it was an "incredible comeback when you think about it".
But, while the President and the White House claim they have "Sleepy Joe's" measure in an election match-up, it is an
open secret
[Open secret – pull the other one, Cameron] that Biden is the opponent they least want to face.
For weeks, the White House had been strategising, with barely concealed glee, about a campaign against Vermont senator Bernie Sanders on the assumption he was the likely winner of the Democratic nomination after his strong start in the first three state primaries in Iowa, New Hampshire and Nevada. Sanders, the self-described democratic socialist with an uncosted $US60 trillion ($90.7 trillion) spending plan including higher taxes for the middle class, a war on fossil fuel and the forced abolition of private health insurance, has an agenda that seems tailor-made for Trump to exploit on the campaign trail.
Now the White House is dusting off its "how to beat Joe" manuals on the assumption Biden, not Sanders, will be Trump's opponent after his wins in South Carolina and on Super Tuesday, and gaining the endorsements of former moderate rival candidates Pete Buttigieg, Amy Klobuchar and billionaire Michael Bloomberg.
"Not only has the last 96 hours brought a seismic shift in the Democratic primary but the trajectory of the general election is now completely different," former Trump aide Sam Nunberg told Politico.
In recent days the White House has pivoted its attacks towards Biden in anticipation of his eventual candidacy.
It particular, it has targeted the 77-year-old's doddery image and his penchant for gaffes.
The Republican National Committee this week produced a video called Great American Speeches that shows footage of famous speeches by Franklin Roosevelt, John Kennedy and Ronald Reagan, and ends with Biden forgetting a line from the Declaration of Independence.
"Through history, our presidents have delivered historic American speeches, Biden just delivers gaffes," the RNC says. [Biden couldn't remember where it was he had read all men are created equal, so he just said, "the thing"] Trump tweeted: "WOW! Sleepy Joe doesn't know where he is, or what he's doing. I don't think he even knows what office he is running for." [Biden said, "I'm Joe Biden and I am running for Senator"] Republicans also said this week they would reintroduce to the Senate an inquiry into corruption allegations against Biden's son, Hunter, in relation to his paid position on the board of Ukraine energy company Burisma.
[Biden joke on camera that he got the prosecutor sacked who was investigating Biden's son.] But Biden is a more difficult target for Trump than Sanders would be. As Sanders ascended in the race early on, Trump stepped up his portrayal of all Democrats as socialists given their support for the 78-year-old revolutionary-style firebrand.
But, while Biden can be labelled as progressive, it is difficult even for Trump to portray the former vice-president as a bomb thrower for the far left.
Biden, often dubbed Middle Class Joe, has a folksy demeanour likely to resonate with centre-left middle and working-class Americans far more than the angry finger-pointing absolutism of Sanders.
[Not so far, people are turned off by his smelling women's hair, letting kids in a pool play with his leg hairs, crowding girls necks from behind] It was telling that Biden won several states on Super Tuesday, including Minnesota and Massachusetts, where he did not advertise or campaign — in stark contrast to the money and time lavished on those same states by Sanders and Bloomberg. It underscores how Biden poses more risk to Trump in the key election battlegrounds of the midwest, having been born in the hard-scrabble former coalmining town of Scranton in Pennsylvania.
[It is exactly there that Trump brought jobs back to the coal mines.] A Yahoo News poll released this week but taken before Biden's win in South Carolina and on Super Tuesday found Biden was the only one of the Democratic candidates who beat Trump by a significant margin in the battleground states.
[Poll taken among Democrats.] In the key states of Michigan, New Hampshire, Wisconsin, Pennsylvania, Florida, Minnesota, Nevada, Maine, North Carolina, and Arizona, Biden has 50 per cent support compared with 43 per cent for Trump, a lead that has likely increased since Super Tuesday. By contrast, Sanders has only a 48 per cent to 45 per cent lead over Trump in those same states.
It is no coincidence that when Trump chose to take part in a televised town hall meeting on Friday, he chose to do it in Biden's birthplace, Scranton.
If Trump and Biden do battle it out on the campaign trail, they will be selling a very different vision of America to voters. So what is Biden promising and how would a Biden presidency change what Trump has done in his first term?
The most significant changes, at least for Australians, would be Biden's promise to abandon Trump's America First approach to the world and, as he puts it, restore America's leadership on the global stage. This would involve recommitting the US to its alli­ances, multilateralism and to what he sees as its global responsibilities. In many ways, like much of Biden's agenda, it is a partial throwback to the Obama era and the more traditional vision of America's role in the world before Trump.
Biden argues that Trump has "belittled, undermined and in some cases abandoned US allies and partners". He promises to recommit and strengthen alliances with Australia, Japan and South Korea in the face of a rising China. He says he will reverse Trump's "admiration" for autocrats from Russia's Vladimir Putin to North Korea's Kim Jong-un.
Biden says he will rejoin the Paris climate accord, rejoin the Iran nuclear deal and restore US support for NATO, which he calls "the single most important military alliance in the history of the world".
He has somewhat belatedly toughened his rhetoric towards China in the past year, labelling its rise as a "serious challenge" and criticising its "abusive" trade practices. Strategically, he promises to boost the US naval presence in the Pacific and to harness America's allies, including Australia, to build a more united front against Beijing's strategic ambitions in the Indo-Pacific.
But Biden opposes Trump's use of tariffs to force China to change its unfair trading practices, describing the policy as "self-defeating" because US consumers end up paying for them. Instead, Biden calls for targeted retaliation against China using existing trade laws, but he doesn't fully explain how this would be powerful enough to force Beijing to reform its practices.
On defence, Biden appears less of an isolationist than Trump but — like Trump — he has promised to end US involvement in "forever wars" such as Afghanistan.
While he wants the US to "reclaim" its role as a world leader, he wants this done through a network of alliances, not through unilateral US military action. In fact, Biden is deeply sceptical of the ability of the US to reshape foreign societies. "We need a real strong dose of humility about (our) capacity to fundamentally alter circumstances around the world," he says.
Instead, he supports a counter-terror strategy that uses small groups of special forces to take out terrorists rather than large troop deployments.
On domestic policy, Biden's creed is "evolution, not revolution", although he has taken more progressive positions than Barack Obama on some issues, in part to avoid alienating the liberal wing of his party.
On healthcare — the single most important issue for American voters — Biden would reject a sweeping Medicare-for-all solution and instead would expand the Affordable Care Act, dubbed Obamacare, which he helped to craft in the Obama administration.
On immigration, Biden has a bet both ways. On the progressive side, he promises to give citizenship to the so-called "Dreamers", the undocumented residents brought to the US as children. He labels Trump's immigration policies as "morally bankrupt" and "racist", and says he would increase the intake of immigrants and refugees.
Yet Biden is tougher than most other Democrats on border security and as vice-president he was party to an expansion in deportation policy that saw hundreds of thousands of asylum-seekers sent back to Mexico. While Biden says he is against Trump's border wall, as a senator he voted in 2006 for the Secure Fence Act, which authorised 700 miles (1127km) of double-layered fence on the US-Mexico border.
On climate change, Biden has sought to placate his party's left by promising to go "well beyond" the Obama administration's climate change policies. He pledges to achieve net-zero greenhouse gas emissions for the US by 2050 through a bill that creates "legally binding" emissions cuts with an "enforcement mechanism", although it is unclear how such a bill would pass if Republicans maintain control of the Senate. Biden says he will introduce a carbon tax, saying "polluters must bear the full cost of the carbon pollution".
But, despite these measures, Biden's climate policies are less extreme than those of Sanders. Biden has praised but not adopted the more activist Green New Deal resolution championed by high-profile liberal congresswoman Alexandria Ocasio-Cortez and by Sanders.
On other issues, Biden calls for a ban on assault weapons and universal background checks for gun owners, a repeal of Trump's 2017 tax cuts, greater taxes on investments and on wealthy Americans, raising the minimum wage to $US15 an hour, cheaper college education, higher pay for teachers and the abolition of the federal death penalty.
"All these issues and more are on the ballot," says Biden. "But something else is on the ballot. Something even more important. Character is on the ballot. America's character. I do not believe we're the dark, angry nation Donald Trump sees in his tweets in the middle of the night."
Biden says he would restore the dignity of the brand of the president, something he says Trump has trashed with his combative, divisive rhetoric and style. "This all starts with a revival of decency and honesty and character," he says.
Biden claims that as president he would seek to tackle the hyper-partisan ethos in Washington that has created a virtual deadlock in congress over legislation. He has vowed to reach across the aisle and partner with Republicans to secure legislation rather than promote a perennial war between Democrats and their opponents.
"Americans aren't looking for a revolution, they're looking for progress," Biden says.
Critics say the weakness in Biden's promises are that he doesn't offer much more than a rewinding of the clock to a rose-coloured vision of the "good old days" before the Trump revolution. Biden sells himself as being the anti-Trump rather than someone who is bringing a fresh vision of America to the White House.
Sanders and his supporters say Americans don't want this type of conventional politics any more. This is the era of rage and populist anger, and Biden, who would be the oldest president elected, is of another era and of another time, they say.
Yet the swift and stunning resurrection of Biden by Democrats as their frontrunner for the nomination shows many Americans may be longing for a return to what they consider normality after the turbulent Trump term.
Trump may be right — Biden may be an easy mark for this President, who has a strong economy behind him, a long list of promises kept and a fiercely loyal fan base.
But Biden's comeback has changed the calculation inside the White House. Trump now tweets daily about Sanders being robbed by the Democratic establishment — an illustration of how disappointed he seems to be that his opponent may now be "Sleepy Joe" rather than "Crazy Bernie".