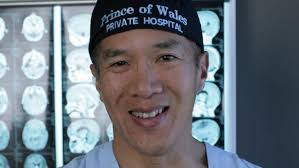 29.05.19.
Sean Parnell in
The Australian
has updated his column of yesterday about brain surgeon Charlie Teo. Dr Teo who  shot back at his detractors, mostly jealous competitors, who delicately sought to put Teo under ethical question. Large sums above Medicare fees were put forward without mentioning the high costs of private facilities, other specialists involved, all of which leaves Dr Teo with a lesser part of the overall fee. And, if you had what all other doctors claimed was an inoperable brain malady and Teo offered hope with a proven chance, what would you do or want to do? It's no wonder that Charlie Teo is quite miffed!
Brain surgeon Charlie Teo has defended the practice of accepting six-figure sums raised for cancer patients through crowd-funding to pay for his services.
The controversy over Dr Teo's practices prompted the Australian Medical Association and Royal Australasian College of Surgeons to yesterday remind surgeons of their responsibility to avoid excessive fees and ensure patients could provide informed financial consent.
Source: News Corp
Charlie Teo: brain surgeon defends six-figure op costs
AMA ethics chair Chris Moy said money should not be a barrier to treatment. He said most services were provided with no out-of-pocket costs for the patient or for a known, and often relatively small, gap fee. "Certainly, the AMA would totally be opposed to the use of things like scarcity of treatment or reputation, for example, to exploit desperate people," Dr Moy said.
RACS executive director of surgical affairs John Quinn said the procedures offered by Dr Teo were already available in the public system and patients should not have to fundraise, mortgage their houses or access their superannuation to pay for them elsewhere.
Dr Quinn declined to comment on Dr Teo's practice or the market for his services, saying that was a matter for the neurosurgeon and his patients but he re­iterated the need for informed financial consent.
"The college's view is that it is unethical to charge exorbitant fees or to exploit patients or their families in vulnerable situ­ations," he said.
Dr Quinn told the ABC: "Those who think if they pay a greater fee that they will get a better service are misguided and misled.''
Dr Teo told The Australian he had been unable to do more ­public work in his 30-year career because hospitals would not cover the cost of his high-stakes operations and other neuro­surgeons felt threatened by him.
"Am I as good as people say I am? If you speak to any neurosurgeon in Australia, they will say it's all rubbish … so why is it I am lauded and seduced overseas by the best hospitals? Surely there is something to that."
Dr Teo's comments came after prominent Sydney urolo­gi­cal surgeon Henry Woo questioned the "really disturbing trend" of people launching online fundraising campaigns to be treated by Dr Teo at the Prince of Wales Private Hospital.
Some campaigns have raised more than $120,000 in the hope Dr Teo can extend or save someone's life.
Professor Woo, from the University of Sydney and Chris O'Brien Lifehouse, pointed to 113 GoFundMe campaigns and said if it was "valid surgery", it should be provided in the public system and not leave patients destitute.
Dr Teo said he had previously asked NSW Health whether he could operate in the public system but it would have blown its budget: his many interstate patients could be referred there but the home state would not cover the cost.
If NSW Health had accepted, as Dr Teo argued, that he was providing a different level of skill for cases others might deem futile, he could potentially have established a Centre of Excellence. But that, he said, would have required other Australian neurosurgeons to endorse him — a rare occurrence.
"It's all these egos of doctors who aren't prepared to say 'Oh, this person is doing it better or that hospital is doing it better or that unit is doing it better'," Dr Teo said last night.
He said he offered all his prospective patients surgery with no out-of-pocket costs if they could convince their doctors to formally invite him to operate in the public system.
Dr Teo alluded to a recent case where a patient was fundraising and, unable to afford the upfront cost of surgery, convinced their doctors to invite him to work in the public system.
Yet that was a rarity, he said. For his patients at the Prince of Wales Private Hospital, an upfront fee of $120,000 might include $40,000 for the various practitioners — "granted, I get the largest cut of the pie" — but the rest went to the hospital.
Dr Teo accepted that the hospital set a fee it thought was reasonable because of the complexity of his cases and that "occasionally I get a bad outcome and a patient is stuck in hospital" longer than anticipated. "Most patients with keyhole brain surgery are out within one day, which … usually (for other neurosurgeons) brings in a fee of $35,000," he said. While surgical outcomes are not published, Dr Teo said he had performed about 11,000 operations and despite the bullying and opposition, had built a positive reputation for himself.
The federal government will next year launch a website providing data on the range of fees being charged for certain medical services to help patients provide informed financial consent.