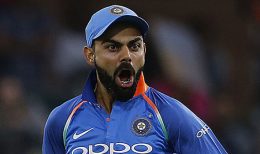 Boxing Day cricket: Australia Vs India
Rarely does Morning Mail cover sports. However, when sport overtakes interest in lousy politicians and their mismanagement of the nation's business we sally to the ramparts under the banner of patriotism. Having become a recent, but novice fan of test cricket when played in Australia, by Australia, this editor adopts the life of a dole bludger by camping in front of the TV for weeks. It's like watching grass grow, but he athleticism on the field is extraordinary. And, I'm sure my TV is bugged because every time I have nick off to the toilet I hear the crowd roar as another wicket falls. Three times in a row that happened. A TV in the dunny is the only answer. The score is one all as they begin play in Melbourne on Boxing Day, in competition with the Hobart yacht race. I shall be glued to the cricket praying that the obnoxious, cackling little squirt Virat Kohli, probably the best and richest cricketer on earth, gets comprehensively trounced. Should India win I vow to give up curried mongoose on a stick forever!
With Boxing Day fast approaching and Australia locked at 1-1 with India in a riveting series, attention has turned to the MCG pitch with questions as to whether it will produce a surface worthy of the tightly fought contests so far this series.
Source: ABC
Boxing Day Test pitch set to offer 'something for everyone' according to MCG curator
The MCG was subject to severe criticism last year after the flat track on offer contributed to a soporific draw against England, earning a first ever 'poor' rating for an international pitch in Australia.
The pressure to produce a suitable surface was ramped up even further this month after the latest Shield game to be played at the venue ended in another tepid draw — the seventh in eight first class matches at the MCG over the past two seasons.
However, new head curator at the 'G, Matt Page says that he is much happier with preparations ahead of this year's Test and that a result will be possible next week.
"We're pretty happy with where it is at the moment," Mr Page said of the pitch at the MCG on Sunday morning.
"It's just a case of monitoring the weather and then adjusting our plans as we see fit, but we're happy with where it is at and the weather is looking good, so we're in a pretty good spot at the moment."
In that fourth Ashes Test last year, the MCG pitch remained almost entirely unchanged after five days play that saw 1,081 runs scored and just 24 wickets fall in five days.
Under new regulations introduced this year, a 'poor' pitch will now result in a venue being given three demerit points, with the ICC having the power to strip a ground of the right to host international fixtures for two years should it accumulate 10 demerit points over a five-year period.
Last year the MCG received a US$15,000 fine — which could increase to $US30,000 if it receives another poor rating in the next five years.
That prompted a series of changes to be made by new curator Mr Page, who moved from his job at the WACA at the start of the year, including reducing the number of pitches from 10 to seven to instigate more natural wear into the pitches, and placing a bed of sand under the drop-in pitches to create a more natural environment.
"Everything that we've done we're optimistic about and we've had positive signs so far. It is still early days, but we're happy with where we're at," Mr Page said.
'We'll make sure that it won't happen again'
Victoria and Western Australia played out yet another run-laden draw on the ground earlier this month.
But Mr Page moved to address those concerns, saying he had experimented with different options in the Shield to help prepare the best possible pitch for Boxing Day.
"We had three Shield games leading into this, and the big plan for us was to play around with a few things to make sure we get it right for Boxing Day.
"We've got some things right … and other things that we wanted to improve on.
"We tried to get [the pitch for the Western Australia game] a little bit harder and a little bit drier — but I guess we didn't get the result that we wanted. But we learned from that and we'll make sure that it won't happen again."
Mr Page instead said that the pitch will more closely resemble the second Shield game at the venue so far this summer, a rain-affected draw with South Australia.
"I think [the Boxing Day pitch] will be very similar to the South Australia [match], which we were probably happy with the most," Mr Page said.
"We were unlucky not to get a result because losing the last day through rain but there seemed to be a bit there for everyone."
The focus on pitches has rarely been higher in Australia, particularly after the much-praised Perth Stadium pitch was surprisingly handed an 'average' rating form the ICC earlier this month, a move that was met with much criticism from former players.
Mr Page admitted to feeling the pressure as Boxing Day approaches, but said that there was also a lot of excitement ahead of Australian cricket's biggest day and that last year did not affect his mindset.
"Look, it doesn't matter what pitch you prepared last year and what rating you get," Mr Page said.
"Every year you try and do the best possible job that you can, and whether you succeeded the year before or it didn't go quite as planned, there's still pressure there.
"We're just trying to provide a pitch that gives [the bowlers] opportunities, and if a batsman gets in on it, then he gets the opportunity to score some runs. That's what we're ultimately trying to produce.