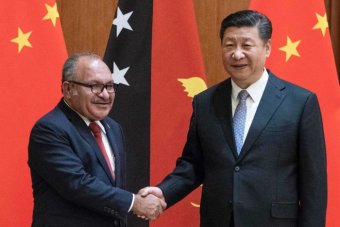 06.05.19.
Oh dear! Gone is the euphoria and massive spending at the APEC spendathon late last year. PNG's Prime Minister Peter O'Neill is probably hiding under his desk today as a mob calls for his political head. Gosh, what happened to the 500 brand new vehicles, the Maserati Quadroporte's and other expensive livery? PM for the present, O'Neill is probably doing burnouts in one of them on that kilometre of road to nowhere that China built—as the peasants throw rotten bananas at him.
Ben Packham for
The Australian
reports that 
The Royal Papua New Guinea Constabulary said public movement would be restricted on Port Moresby's streets from today, with an extra 1000 police deployed in a citywide operation.
Source: News Corp
Police alert on PNG crisis
PNG Prime Minister Peter O'Neill's leadership was hanging by a thread last night amid a surge of defections from his coalition and calls for generational change in the government, in a political crisis that could threaten a $16 billion gas deal and force the reframing of one of Australia's most important strategic relationships.
Australian officials are closely watching developments in Port Moresby, where Mr O'Neill is likely to face a vote of no confidence on the floor of parliament when it resumes tomorrow.
Opposition parties claimed to have secured the backing of 57 MPs in the 111-seat parliament.
Mr O'Neill's People's National Congress said 60 MPs remained with the government.
The Royal Papua New Guinea Constabulary said public movement would be restricted on Port Moresby's streets from today, with an extra 1000 police deployed in a citywide operation.
Former finance minister James Marape, whose resignation from the government set off a wave of defections, yesterday said those lining up against Mr O'Neill were part of a "revolution of like-­minded" young leaders who would set the country on a course to economic success.
"I am building a younger generation of leaders to maximise the full potential of the country so that when my time is up, these younger leaders can make our country the richest black Christian nation on planet earth," Mr Marape said.
Mr O'Neill received a boost on Saturday when Treasurer and Deputy Prime Minister Charles Abel, who earlier called on Mr O'Neill to resign, announced he would stick with the government.
"In this difficult time I want to say PNC remains a solid team ­despite some of our good brothers leaving us," Mr Abel said.
Australian Strategic Policy Institute executive director Peter Jennings said Mr O'Neill had been a "mixed blessing" for Australia: "He has certainly been a tough PM to deal with at times and there has been a sense of worry that he has allowed himself to get too close to China, which clearly is a concern to us."
Lowy Institute Pacific program research fellow Shane McLeod said Australia, which recently sealed a deal with Mr O'Neill to build a joint naval base with PNG and the US on Manus Island, had invested heavily in its relationship with Mr O'Neill.
"There would be uncertainty over what comes next but Aus­tralian officials are also familiar with a lot of the players in this situation," he said.
Opposition MPs were yesterday locked down in a Port Moresby hotel where senior political figures hoped to lock in support behind a move on Mr O'Neill and come to a consensus on who would replace him.
Opposition leader Patrick Pruaitch told local media that all agreements signed by the O'Neill-Abel government would be reviewed, including the $16bn Papua LNG deal signed less than a month ago with Oil Search and its partners, ExxonMobil and France's Total.
Mr O'Neill raced home last month from a visit to China, where he was attending a Belt and Road Initiative conference, to deal with the threat to his leadership.
Among the most recent defections were Enga Governor and political powerbroker Sir Peter ­Ipatas, Health Minister Sir Puka Temu and Defence Minister Solan Mirisim.
PNG, which has an estimated population of about eight million, is Australia's biggest aid recipient, receiving $541 million in development funding last year.