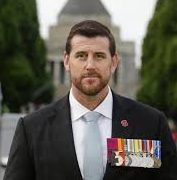 09.06.21.  Former governor-general Dame Quentin Bryce – who pinned the Victoria Cross to Ben Roberts-Smith's chest – [despite prior publication of misleading journalism to the contrary MM,Ed] has "never withdrawn her support" for the war hero and only declined to appear as a character witness due to personal reasons, the second day of the defamation trial between the veteran and Nine newspapers has heard. On Tuesday, the Federal Court heard Dame Bryce had outlined her "support" for Mr Roberts-Smith in a letter dated 27 March, 2019. Bruce McClintock, SC, for Mr Roberts-Smith, sought to tender Dame Bryce's letter but was challenged by Nicholas Owens, SC, for Nine, who said it made the situation "much more complicated".
Source: Kieran Gair, News Corp
Ben Roberts-Smith: War hero 'lost $475k income after claims'
"She has never withdrawn her support for Mr Roberts-Smith," Mr McClintock said. "But she won't be appearing as a witness for personal reasons."
The court heard that demand for Mr Roberts-Smith to speak at paid events had "evaporated" and led to an estimated loss of income approaching $475,000, after Nine published a series of reports in 2018 that alleged the former SAS soldier had committed murder during deployments to Afghanistan.
Mr McClintock told judge Anthony Besanko that Nine's "maintenance of unjustifiable allegations of murder", including a now abandoned allegation that he swum across the Helmand River in 2012 and unlawfully killed an unarmed Afghan male, had been made in "bad faith" and were made without any evidence.
One allegation of murder that involved the execution of a teenage boy in 2012 had been sustained for almost two years despite a "complete absence" of evidence. Chris Masters, who is being sued alongside journalists Nick McKenzie and David Wroe, was aware that Mr Roberts-Smith had been on a "completely different operation in a completely different part of Afghanistan" when the alleged killing occurred, Mr McClintock said.
"These are not trivial attacks, these are allegations of murder and war crimes and there really can be nothing more serious than that," Mr McClintock said.
"In 2018, when this material was published, there could not have been a former soldier better known or more highly respected than my client."
Mr Roberts-Smith, 42, is suing Nine newspapers The Sydney Morning Herald, The Age and The Canberra Times, which is now under separate ownership, for defamation over reports published in 2018 that alleged the former SAS soldier had committed murder during deployments to Afghanistan between 2009 and 2012. He is also suing Nine over allegations that he punched a woman with whom he was having an extramarital affair.
Mr Roberts-Smith denies the allegations, saying the reports are defamatory because they portray him as a murderous war criminal who "broke the moral and legal rules of military engagement".
The newspapers are seeking to prove that the war hero committed six murders, and will defend the claim using the truth defence.
Mr McClintock told the court that Mr Roberts-Smith had been "engaged in a profitable public speaking" career, earning an income of $320,000 in the 2018 financial year.
He said the war hero was forced to reject a partnership offer from a big accountancy firm after the allegations surfaced in 2018. Domestic violence allegations had also reduced his "earning capacity", Mr McClintock said.
On Monday, Mr McClintock said the allegation that Mr Roberts-Smith had punched a woman, with whom he was having an extramarital affair, as a false accusation that had caused "terrible damage".
Mr McClintock said the court should award damages, including aggravated damages and damages for economic loss, because the articles had sought to "smash and destroy" the war hero's "reputation."
A substantial part of Mr McClintock's opening address on Tuesday is expected to be held behind closed doors to ensure national security information is not released in open court.