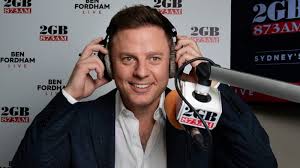 28.09.20.  
There will be more than a few Sydney Radio 2GB listeners, fans of Alan Jones, who have been waiting for the first survey of Jones' replacement, Ben Fordham. The numbers are in and as expected the "Jones" standard has not been met by the overbearing Fordham who comes across as a name-dropper of nobodies in his frantic pursuit of stardom. Nothing about the station losing revenue—maybe that will come. Nah, "Fordo", as he likes to be called, is too much of an immature "fraudo" for mature and intelligent listeners cultivated by Jones it does appear.
Nine's moment of truth as an owner of radio stations has finally arrived — and, interestingly, it's the ABC smelling blood. In the most important radio survey since the 1980s, insiders at the new 2GB are sweating on Tuesday's long-delayed ratings in the country's biggest radio market, Sydney, featuring no Alan Jones. At stake is the No 1 spot 2GB has held for a generation. And ABC Radio Sydney, the city's No 2 rated radio station, has been taking its shot at the crown with targeted ad campaigns.
Source: Nick Tabakoff, News Corp
ABC hunts two-decade Sydney crown of 'No Alan Jones' 2GB
Why? Because with the departure of Jones, 2GB has abandoned its conservative shock jock formula that has won it the ratings for so long, for an ad-friendly, middle of the road line-up. Its new-look team has certainly taken the "shock" out of "shock jock" — based largely on uncontroversial TV personalities like Deb Knight, Jim Wilson and Brooke Corte.
The old 2GB with Jones at the helm unashamedly leaned right and courted controversy. But drive host Wilson summed up the new 2GB mentality when he said in July he wanted listeners to "wonder which way I vote".
That new mindset has come since Jones was heavily targeted by social media activist groups like Mad F..king Witches, a campaign that hurt 2GB's revenues in his last couple of years even as he topped the ratings.
Nine radio insiders now talk about choosing "revenue over ratings". That's all well and good but some 2GB types are asking how it will make revenue if it loses its two-decade Sydney ratings crown.
We may soon find out, with radio sharks circling. Diary hears ABC Radio Sydney, chasing its first Sydney ratings crown in the modern era, has in recent weeks used an ad blitz on its own TV station to specifically target the breakfast slot, where Ben Fordham is filling Jones's giant shoes.
Prime time ad after ad has screened on the ABC's main Sydney TV channel for its strong-rating ABC 702 breakfast pairing of Wendy Harmer and Robbie Buck, second behind Jones in the most recent April survey, and ahead of Kyle & Jackie O on KIIS FM.
Unluckily for Nine and 2GB, they are now confronting the perfect storm of an entirely Jones-free, super two-month survey period, because COVID-19 delayed surveys for nearly six months. That means one thing: no soft ratings landing for 2GB in the first survey back.
Privately, 2GB's best guess is Fordham will rate a 12 — about a third below Jones's towering 17.9 in his last survey before leaving.
And if you were to apply a one-third audience loss across its entire new-look weekday line-up, 2GB's overall ratings could fall from its market-leading 15.4 share in April to around a 10. In that scenario, 2GB's two-decade crown would be in play. The ABC (second on 9.8 in April), KIIS, WSFM or even Smooth would only have to pick up a portion of 2GB defectors to take over the Sydney radio crown.
Tuesday will be fascinating.
$1m spend on Ben
Nine radio bosses might claim not to be concerned about ratings. But they've opened the corporate cash register in a big way to promote their new line-ups in Sydney and Brisbane.
Insiders say Nine have set aside $1.25m worth of campaigns for just two hosts: ads worth $1m for Ben Fordham on 2GB, and a further $250,000 worth for Brisbane's Neil Breen, 4BC's breakfast shock jock in training.
'Beaming Ben' images have been absolutely everywhere in Sydney in recent weeks. There's been a mega-sized billboard of him at Sydney airport, posters of him on the back of every second Sydney bus, TV ads in the 6pm news, large print ads in the Nine-owned SMH and rival Daily Telegraph, and daily cash giveaways. Breen has received similar treatment in the less pricey Brisbane market.
Colourful ex-Ten personality Tim Bailey has also been hired as Fordham's personal weatherman, and a feature profile of Fordham — lined up by Nine in the SMH's Good Weekend — is said to be going to print in November. But word out of 2GB last persisted it definitely won't be a PR puff piece.
Meanwhile, Diary hears Fordham's boxes in the opulent ex-Alan Jones corner office at 2GB remain unpacked — four months after he took over breakfast.