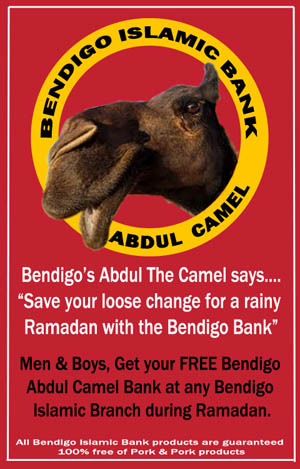 Bank on the Bendigo for Bollocks.
Exclusive
Bret Harte
It is really no surprise that Bendigo Bank is so ruthlessly against anyone who dares to question Islam.
Refusing to open accounts from known Islamic skeptics is only one part of it. Bendigo works particularly hard to attract Muslim accounts.
But why?
It is part and parcel of their mindset. Think of Bendigo Bank as the Fairfax Bank. The bank for every faddy, flaky idea that surfaces. Particularly Green ones.
Look at Bendigo's efforts to support Green plans for "sustainable carbonless energy" – about as sensible and practical as a sustainable paper-less toilet.
(Don't laugh, it will offend Greens – the paperless toilet was once the Big Thing in Green circles. Skip to here for details and notice that this was less than five years ago. "The paperless toilet wipes out the competition" was the Green slogan.)
To resume. Bendigo Bank is really for Greenies and Muslims.
Right now Bendigo Bank is offering prizes for the best ideas of cutting down on carbon, "reducing their carbon footprint" as they put it in the ditsiest slogan of this decade.
Bendigo has formed a campaign called the Generation Green™ Energy Saver Initiative.
Imagine a serious bank trademarking a banal humdrum expression like that, Generation Green™ Energy Saver Initiative. Do they expect people will excitedly ask, "Have you heard about the Generation Green™ Energy Saver Initiative?"
First prize:
$10,000 – to spend on improving your business' energy efficiency.
No, you can't spend it on anything but bloody solar panels. No taking the wife for a second honeymoon. No taking the kids to Disneyland. Bendigo even specifies how you must spend your prize. So left. So communist. So arrogant. So, we know best.
Second prize:
Bendigo Bank Financial Planning Advice and Services "valued" at $5,000.
Not really a prize at all. What you get is a face to face with someone in the Bendigo Bank who will advise you where to put the money you have. It is a take, surely, by any standard.
Third prize:
A Business Energy Assessment from "Victorian Employers' Chamber of Commerce and Industry Sustainability Services" valued at $1,000.
Struth! Even worse. You tell them your bright ideas about reducing electricity consumption and, if it comes in third, another flaky green advisory outfit will have a look at your business and advise you how you can do things better. Like switching off the lights, or not leaving the TV on standby, or buy bloody solar panels. And switch your account very possibly.
How much flakier can a bank get than embrace the increasingly discredited global warming bollocks?
I know;
First prize:
– a trip to North Korea – the country with the lowest carbon footprint.
Second prize:
– a trip Outer Mongolia where they still live on horseback.
Third prize:
– a trip to the monkey house at Taronga Park where they can watch monkeys flinging s**t at each other. A bit like a trip to State Parliament really, with the added bonus and opportunity of buying a balloon for the kids.
Bendigo Bank – the bank for the joyless green faddist.