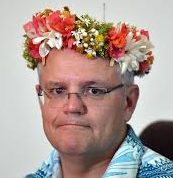 20.09.21.  
Through feeble leadership during the continuing pandemic whereby the Labor states decided to become provincial dictators, thereby splitting Australia into political tribes directed by confused witchdoctors seeking stardom, ScoMo has made a rod for his own back. Allowing lunatics to run the asylum carries a political penalty.
THERE is no easy explanation for Scott Morrison's current predicament.
The Prime Minister has become the lightning rod for the disaffected, which in the Covid world would appear to be the majority. People are grumpy, some more so, and that isn't likely to change until an assurance is given they can enjoy life free from the dead hands of state premiers. And therein lies the Prime Minister's conundrum.
Source: Simon Benson, NCA
States hold power to spoil Morrison's future
Morrison is contesting an unconventional political environment when 60 per cent of the population is in some form of state-imposed lockdown.
The pandemic remains the dominant feature, the lockdowns continue to be the defining aggravation and the anger, rightly or wrongly, is persistently directed Morrison's way.
The state premiers, including the Liberal Premier of NSW Gladys Berejiklian, would appear to have succeeded in transferring blame for their failings back to the commonwealth.
There is little Morrison can do about it for the foreseeable future.
Until the federal contest returns to a more traditional one – absent of the provincial soap boxes – the polls will continue to be unfavourable for the federal Coalition.
Leaving that aside, if the polls were viewed through a more predictable prism, the Coalition would nevertheless appear to be in deep trouble.
The last four surveys have confirmed an average two-party preferred split of 47-53 in Labor's favour. By any measure this would suggest a trend. And a rather dire one for the Liberal-Nationals.
A national averaged primary vote of 37 per cent would also indicate that in states such as Victoria, this could be down into the 20s. Seats such as Higgins would be in jeopardy.
The single biggest challenge for Labor post-election was to restore the party's primary vote, which was at an historically low 33 per cent.
Morrison's greatest challenge was to suppress it. On this score, Albanese would appear to have succeeded.
But then that begs the question as to how much has it got to do with Albanese, considering his net approval ratings are at their lowest levels since he took over the leadership from Bill Shorten.
Morrison's gambit is "Covid-normal" will mean politics as normal, whereby the real contest will begin.