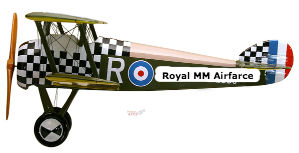 Another government triumph?
Oh dear! It looks like our F-35A Lightning II strike fighters might be hangar bound because of a spare parts shortage. Morning Mail understands the gravity of this at a time when North Korea threatens to skewer us with a nuclear missile or two and now, today, the vodka quaffing Russian wants to do the same to little-old Australia. MM has contacted Mr Turnbull but had to wait a while because his mobile was being used to take his usual morning selfies in The Lodge Gardens. The requisite 10 shots in different attire takes time. Anyway, the waffler has agreed to MM's offer of our squadron of fully armed Sopwith Camels to protect the skies over Australia for the interim. What a smart lad he is!
A spare parts shortage for the ­futuristic strike fighters being bought by Australia is so severe that minor items such as plastic clips for pilots' oxygen masks have taken two weeks to be ­replaced. Defence says the performance of the first five Australian aircraft being used for training operations in the US is above the average for the global fleet.
Source: News Corp
Spare parts shortage hits F-35A Lightning II strike fighter fleet
Australia will buy 72 of the fifth-generation F-35A Lightning II fighters from the US at a cost of about $17 billion, with the fleet scheduled to be at final operational capability in 2023.
Defence boasts the training operations are proceeding as planned with the five planes collectively amassing 1400 operational hours of flying, but the US fleet of the aircraft has been struck down with readiness issues relating to parts and repair delays.
US publication Aviation Week and Space Technology last month revealed how the lack of supply of spare parts and delays in repairs were potentially interfering with pilot training and the availability of the aircraft.
It listed a case where a US pilot was told there was a two-week delay to replace a broken plastic clip that connected his oxygen mask to his helmet. A request to borrow a spare helmet was eventually granted, allowing the pilot to fly the next day.
Quoting US Republican senator Matt Gaetz of Florida in a March hearing of the house armed services tactical air and land subcommittee, the publication said the maintainers of the aircraft were battling for parts.
"We've gotten report after ­report that the parts are not available to ensure that we have got capable aircraft to meet the training syllabus,'' Senator Gaetz said.
Australia's joint strike fighter acting head Air Commodore Damien Keddie flagged the issue of parts in response to questions by a Senate committee examining major projects.
He said the aircraft had several needs that had to be addressed before reaching final operational capability, including ensuring there was a global sustainment system.
"This is a global asset and we are maintaining this in a number of different countries around the world,'' he said.
"We're not going to claim full operating capability until we have a mature sustainment system in place. The platform, the jet itself with the programs, is where we expect it to be at this stage.
"It's the ancillary products, all of the rest of the fundamental inputs to capabilities, that haven't come yet.''
Commodore Keddie also ­revealed that the planes required software upgrades to program missions.
A Defence spokesman responding last week to the US parts issue said: "The Royal Australian Air Force is satisfied with the current levels of aircraft availability, noting the Global Support Solution will evolve and mature commensurately with the fleet expansion.''