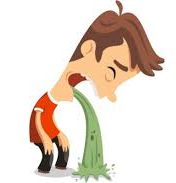 12.07.21.  
It's enough to make you sick. The morning news invariably transports confidence deflating nonsense promulgated by government. It appears that ScoMo's chosen advisors are not 'asking their wives' advise and neither is the PM. The pandemic has run them down. They are, as their decisions indicate, completely flummoxed. Contradictory information has brought on a state of confusion among both government and citizens. Thus, lies to cover up poor management bump into each other like cars on an icy turnpike that we see in the US—chaos!
The commonwealth's "graphic" Covid-19 ad for Sydney residents is a bid to get more people to follow NSW's lockdown rules and get vaccinated as the virus continues to spread. Yet while Sunday's release of two 30-­second ads is intended to encourage Australians to get vaccinated, experts have slammed one of them showing a woman in hos­pital struggling to breath while on a ventilator. The video warns at the start that it might be distressing to viewers before focusing on an ill woman having difficulty breathing as she makes loud noises while hooked up to a ventilator beeping in the background.
Source: Sophie Elsworth and Richard Ferguson, New sCorp
New Covid-19 ads slammed by advertising experts
The commercial is squarely targeting Sydney residents amid concerns many people there are failing to adhere to strict stay-at-home rules as the city remains in lockdown for a third week.
At the end of the video comes a final message: "Covid-19 can ­affect anyone. Stay home. Get tested. Book your vaccination."
Peter Vogel, chief executive of media agency Wavemaker, criticised the advertisement as confronting, saying it was not the best way to ensure Sydneysiders followed the rules and booked a vaccination appointment.
"Another weak and very lazy commercial, reminiscent of the old-fashioned road safety commercials," he said.
"Scare tactics have never been an effective way of advertising these important societal messages – education, empathy or community responsibility will always be a lot more effective approaches than 'scare' tactics."
The University of Melbourne's consumer psychologist Brent Coker said the one of the key elements of advertising was to use emotion, adding that the commercial might not have the desired outcome in this instance.
"It's similar to the public service announcements such as smoking ads in the past – it's in a negative frame that if you don't do something, this is what will happen," he said.
"Research suggests that positive framed ads work better but the government is well known for using negative frames like with drink driving and smoking ads."
The commonwealth's vaccination program co-ordinator, Lieutenant General John Frewen, said the "arm yourself" advertising campaign – which shows a series of people who have received the jab with a Bandaid on their arms – still had to go through a number of phases. The government has foreshadowed a more active advertisement – in line with France, New Zealand and Singapore, which have produced big budget productions to get people jabbed – when there are more vaccine doses available to Australians from October.
Labor leader Anthony Albanese slammed the new "arm yourself" vaccination advertising campaign on Sunday, and called on Scott Morrison to "go back to the drawing board".
"We have been saying for some time there needed to be a public information campaign, but I'm not sure that this cuts it, frankly," he told the ABC.