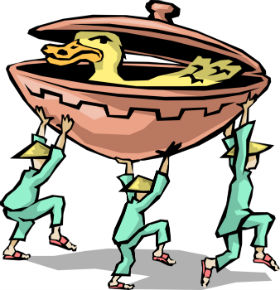 22.07.21.  
By now, most people that pay attention to the political dross that rule Australians, know what a veteran schemer the PalaceDuck is—'what ever it takes' would be her daily pep mantra. The premier knew well before her announced trip to Japan that Queensland would be the winner of the games. Add to her scheme that she announced that the games opening ceremony would not be attended by her—a way of watering down the opposition to her trip—a con! So, it's no surprise, and right on cue, according to the script, that John Coates issues an order for the Duck to attend the opening—how could she possibly disobey an order from such an exultant Olympic boffin? An "unprompted" edict, Eh?
Annastacia Palaszczuk has been ordered to attend Tokyo's opening ceremony in a stunning public intervention by Olympic powerbroker John Coates just a day after the Premier emphatically declared she would not go. Unprompted, Mr Coates used a late night press conference on Wednesday to insist Ms Palaszczuk and her Australian delegation attend the opening ceremony to "learn" about how the global spectacles – which cost at least $75 million – operate.
Source: Hayden Johnson, News Corp
Premier in Coates' firing line for planning to skip opening ceremony
The Courier-Mail on Tuesday first reported Ms Palaszczuk was set to attend the opening ceremony with the IOC after Brisbane was named host of the 2032 Olympic Games – prompting a strong rebuke from her office and an insistence she was not going.
However, Mr Coates warned the whole Australian delegation of the importance in attending the flagship Olympic spectacle.
"You are going to the opening ceremony," he said to Ms Palaszczuk.
"There will be an opening and a closing ceremony in 2032 and all of you, everyone there, has got to understand the traditional parts of that, what's involved in an opening ceremony.
"None of you are staying home and going to be sitting in your room."
The Premier did not respond to Mr Coates' call and declined to say why she would not attend the ceremony.
"I don't want to offend anybody, so," she said.
Ms Palaszczuk was then questioned why it would be more beneficial to sit in her Tokyo hotel room instead of travelling 6.5km to the National Stadium for the ceremony.
The Premier remained silent, prompting Mr Coates to respond.
"You've never been to an opening ceremony," he said to Ms Palaszczuk.
"You don't know the protocols and I think it's a very important lesson for everyone here – opening ceremonies cost in the order of $75 million to $100 million."
"My very strong recommendation is the Premier and the Lord Mayor and the Minister be there and understand it."
If she attends, Ms Palaszczuk will have the opportunity to join U.S. First Lady Jill Biden, European royalty and members of the world's most powerful sporting organisation at the ceremony on Friday just days after Brisbane's watershed 2032 Olympic Games victory.