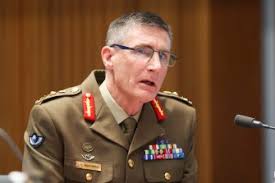 14.10.21.  
This clown for a general should quit and vanish into the ether if he has any level of self pride. Failing that, the government should show Campbell the door. Adequate words fail in this case, the video below, as that awful Senator Penny Wong exposes Campbell in pathetic order.
Sky News host Alan Jones says Labor Senator Penny Wong "made absolute mincemeat" of Australia's defence hierarchy during this week's Senate Estimates hearings into the withdrawal from Afghanistan. When Senator Wong asked General Angus Campbell when he was aware the embassy would close, he replied it was not a defence responsibility.
Penny Wong 'makes absolute mincemeat' of Australia's defence hierarchy over Afghanistan"Senator Wong asked the critical question, did defence or anyone provide advice to the government about the implications of the closure of the embassy, and Campbell says it's not a defence responsibility," Mr Jones said.
"These people are running our defence and security – how Penny Wong remained patient, I do not know."
Mr Jones said General Campbell also appeared to know nothing about who decided not to be part of the US airlift or the evacuation of visa holders.
He discussed the issue with humanitarian advocate Dr Kay Danes.
"It's a real travesty watching our government department struggle the way they did for just providing simple answers to very simple questions," she said.
Source: Sky News