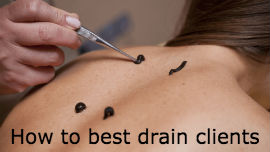 AMP: leeches are extremely tenacious
UPDATE: Catherine Brenner has resigned!(7:55 am)

AMP chairman Catherine Brenner still clings to her job like a leech clings to its provider. So would I with a weekly pay of $12, 692. Hell, a brain surgeon, a person that saves lives rather than grabbing the savings of others would like to make that. A volunteer firefighter would appreciate $10 per week to help pay for fuel to attend training sessions, etc. Ned Kelly would wonder why he had to work so hard to relieve his victims of their hard earned cash!
The board of AMP was locked in a crisis meeting last night, discussing the future of chairman Catherine Brenner after two weeks of turmoil at the $11.7 billion wealth manager triggered by the banking royal commission. An announcement to the sharemarket about Ms Brenner's grip on the $660,000-a-year chairmanship could come as early as this morning.
Fate of AMP boss Catherine Brenner hanging by thread
Ahead of yesterday's meeting, AMP sources told The Australian Ms Brenner was under intense pressure and was expected to resign. Former IAG boss Mike Wilkins, an AMP director who was put in charge of the wealth manager's executive team 10 days ago, was expected to be made executive chairman. An AMP spokesman declined to comment on the outcome of the crisis meeting.
Ms Brenner's spokeswoman also declined to comment.
The gathering of the nine-member board — revealed byThe Australian on Friday — is believed to have taken place via telephone hook-up and followed recommendations on Friday to Kenneth Hayne's banking royal commission that the blue-chip company committed crimes by lying to the corporate regulator ASIC about AMP's fees-for-no-service rort.
At the emergency board meeting, members were believed to have encouraged Ms Brenner, 47, to step down to take responsibility for the financial services giant's wrongdoings.
Ms Brenner, a protege of Australia's most influential business figure, David Gonski, has been AMP chairman since the messy departure of her predecessor Simon McKeon two years ago. The Weekend Australian revealed Ms Brenner did not come clean to shareholders, the media and regulators about the nature of the sudden departure of Mr McKeon, the former executive chairman of Macquarie Group's Melbourne business.
The AMP board hopes change at the top will stem a record-breaking two-week decline in the value of AMP shares.
Almost $2.2 billion of AMP's sharemarket value has been wiped following revelations of its misbehaviour, which have triggered a trio of threatened class actions and threats of jail time for its most senior staff.
Ms Brenner's resignation would be the second scalp for the commission, following the exit of former CEO Craig Meller a fortnight ago. Mr Meller had been scheduled to leave the company at the end of this year, but his departure was brought forward in an ­effort to satisfy the market's call for accountability.
The company has "unreser­vedly" apologised for "the misconduct and failures in regulatory disclosures" in its ­advice business and said it ­accepted the need to "accelerate the necessary change" at the group. But this has not satisfied many investors.
On Friday, senior counsel to the commission Rowena Orr QC recommended criminal charges against senior AMP executives for breaches of the Corporations Act, attracting a fine of up to $180,000, and one section of the Australian Securities & Investments Commission Act.
In a scathing indictment of the company's culture, Ms Orr singled out AMP's board and senior management, including its on-leave general counsel Brian Salter, but stopped short of asking Mr Hayne to find company officers committed the offences, which carry jail terms of up to five years.
"The board is determined that we will meet these challenges head-on — accelerating changes in both culture and performance at AMP," Ms Brenner said on April 20, her only statement to date on the humbling of the wealth manager.
Board members including former senior bureaucrat Peter Varghese and Seek chief financial officer Geoff Roberts had hoped Ms Brenner's exit would preserve the three AMP non-executive ­directors up for re-election at its annual meeting on May 10.
High-profile institutional investors, proxy advisers and retail shareholder groups have said they will vote against the re-election of directors Holly Kramer, Vanessa Wallace and Andrew Harmos at the meeting at Melbourne's Grand Hyatt on May 10 in protest over the group's conduct.
"The senior management and executives who contributed to the misleading of ASIC over the two-year period had knowledge of the extent and nature of the conduct and were warned by junior staff about it being a breach, but continued with a misleading narrative to ASIC," Ms Orr told the commission. A fortnight ago, AMP head of financial advice Jack Regan ­admitted to the commission the company had misled ASIC no fewer than 20 times.
Evidence before the commission also suggested AMP executives put pressure on law firm Clayton Utz to downplay the role in the debacle of former advice boss Rob Caprioli and remove Mr Meller's name from a final report that the firm prepared for AMP on the scandal.